Events
The North Wales Cancer Appeal now has a regular calendar of events which is increasing all the time, all run with the sole intention of raising much needed funds for the Charity.
Ladies Lunch 2018 Brookhouse Mill Denbigh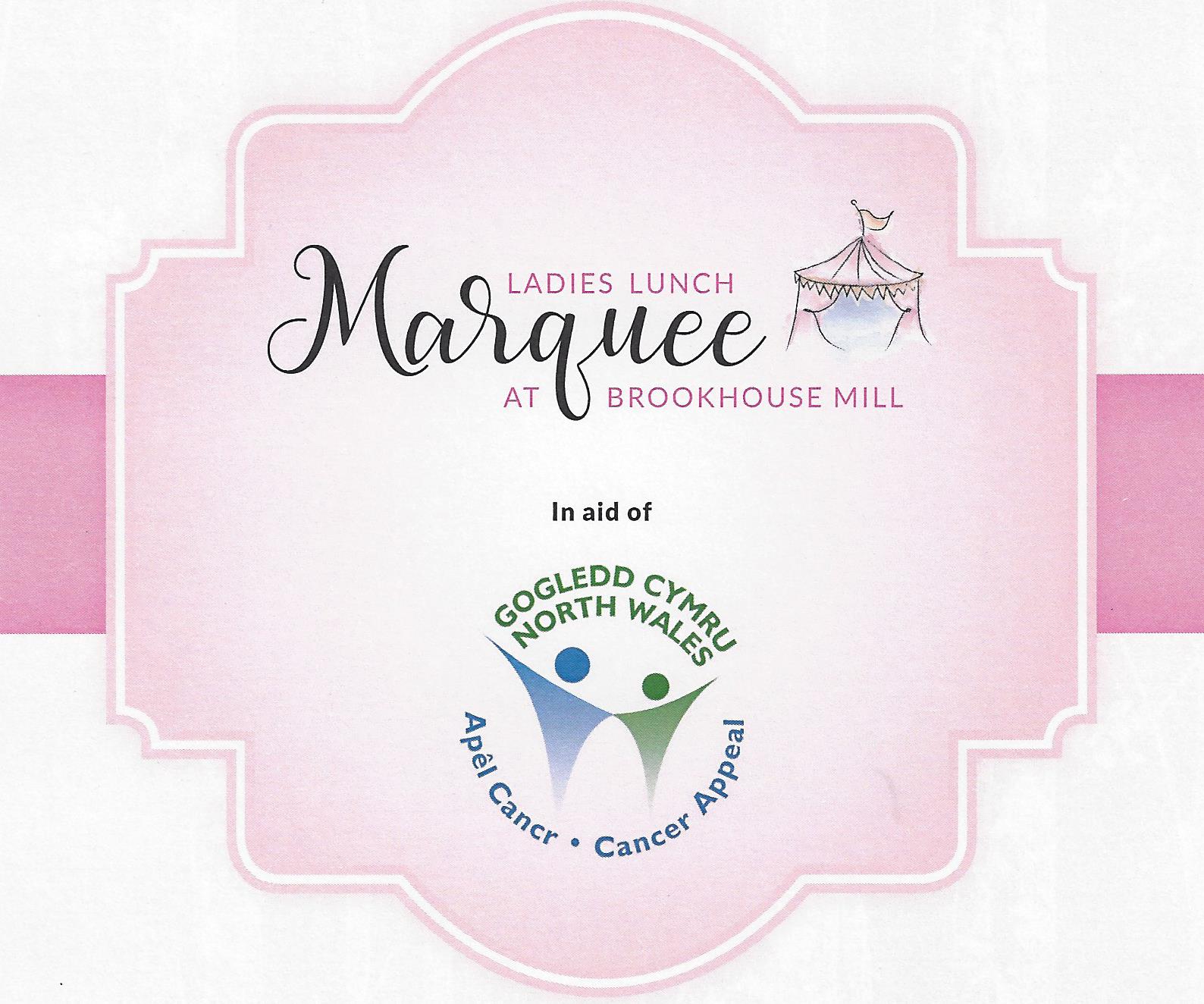 Now an annual event the Ladies Lunch held at The Brookhouse Mill in Denbigh on Saturday 18th July 2018, once again proved a popular and well support 'must attend' occasion.
Thanks to the hard work and efforts of Karen & John Hall and their team at Brookhouse Mill , 130 guests enjoyed a Prosecco and Canape Reception followed by a delicious two course meal. Local businesses provided invaluable support with stalls and donations for the Raffle and Auction and as a result the event raised the fantastic total of £3,000.00.

Guests went home with a wonderful array of Raffle & Auction lots which were as follows:

Raffle
| | |
| --- | --- |
| Denbigh Choc Shop | Chocolates & Chocolate Pizza |
| Baroque, Denbigh | £50 Voucher |
| Brookhouse Mill    | Meal Voucher for 4 People |
| Homeward Bound | Afternoon Tea for 2 |
| Meirion Davies, Denbigh     | Gift Voucher |
| Tweedmill Shopping Outlet | Afternoon Tea for 2 |
| James Fearon Wines   | Magnum of Prosecco |
| Baa Stool, Denbigh    | Sheepskin Cushion |
| Terri Wilde Artist    | Fuchsia Painting |
| Stephs Beauty Lounge, Holywell | £30 Gift Voucher |
| Tommys Hair Company  | Gift Voucher & Treatment |
| Tesco Ruthin | Tesco Finest Products Hamper and Pink Prosecco |
| Pure Lovely Designs | Novelty Sign |
| Natures Treasures | Bottle of Prosecco & Wine |
| Shlizzy  | Flavoured Artisan Gins |
| Studio 13, Denbigh     | Necklace |
Auction
Framed Prints of Border Terriers and Hounds by Elizabeth Halstead
Pamper Day from Tommys Hair Company
Try Dive with Fins, & Underwater Camera from British Scuba Diving Association
Great Spotted Woodpeckers Original Painting by Terri Wilde

Enormous thanks go to all the sponsors and guests who supported the event and we look forward to welcoming you to an even bigger gathering in 2019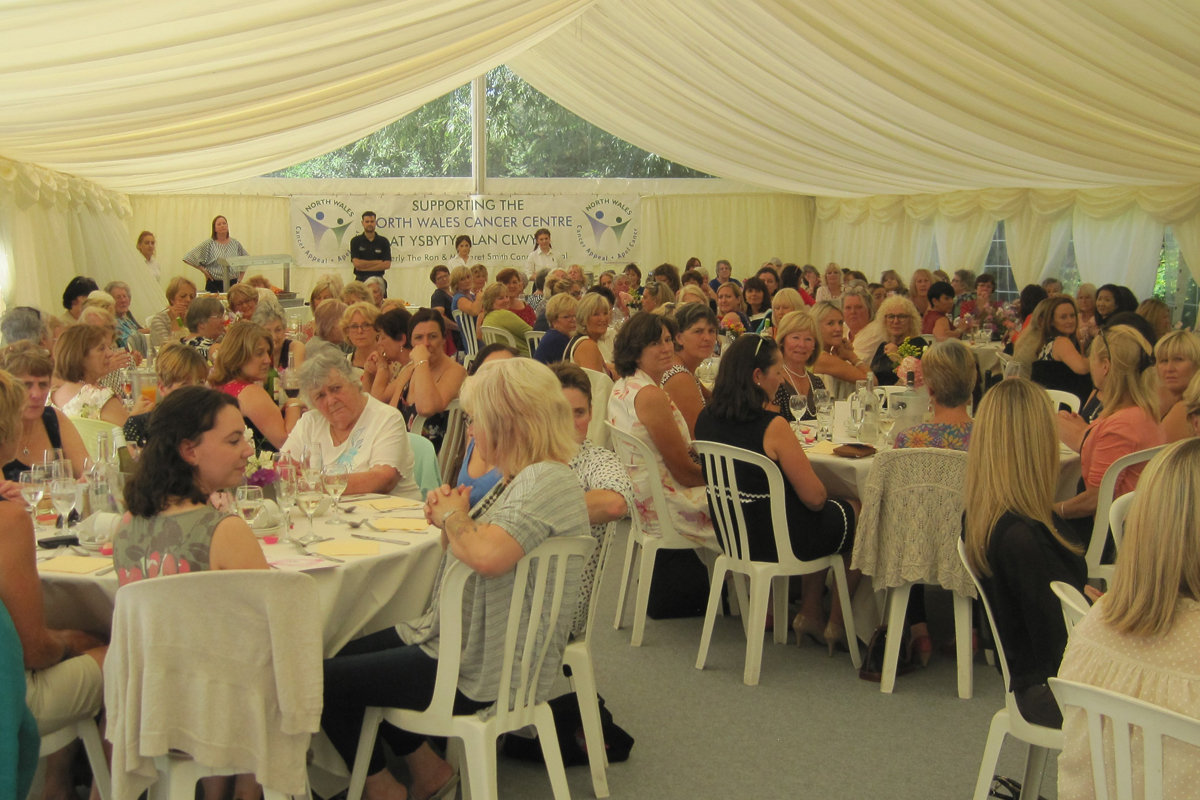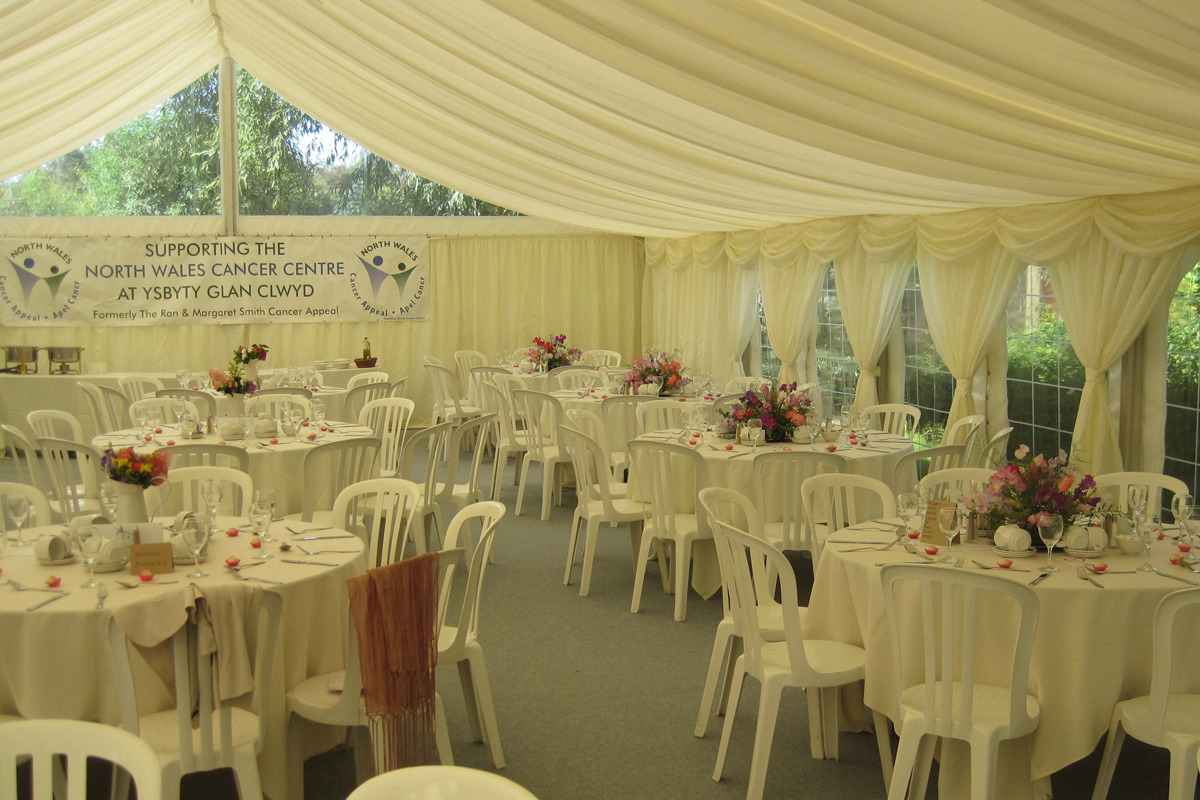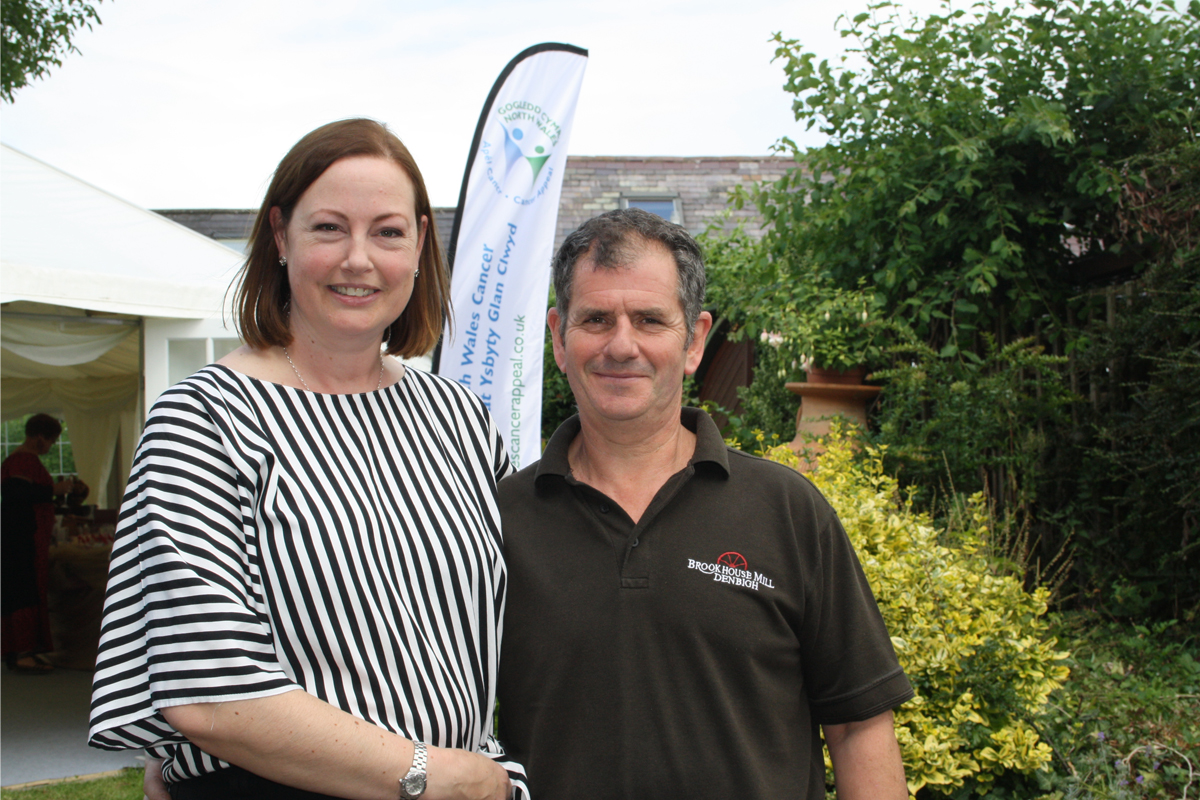 Denbigh Town FC Charity Football Match
The Annual Uptown vs Downtown Charity Football Match took place at Denbigh Town FC on Bank Holiday Sunday 26th August. Despite a miserable wet start the teams turned out in force with a very energetic pre-match work out by the Uptown team and Kick Off went ahead at 11am prompt.
After their energetic pre match display the blue team (Uptown) took an early lead, however the final score was 4 -2 to the Downtown team and was followed by celebrations and commiserations after at a local hostelry. With the very generous support of players, supporters and members of the public over £1,200 was raised for the Charity
The Organisers kindly nominated the North Wales Cancer Appeal to benefit from the sponsorship proceeds and the very well supported bucket collection.
Our enormous thanks go to James Drury and the rest of the Organising Committee and Shaun Powell of Lock Stock for his help and support on the day.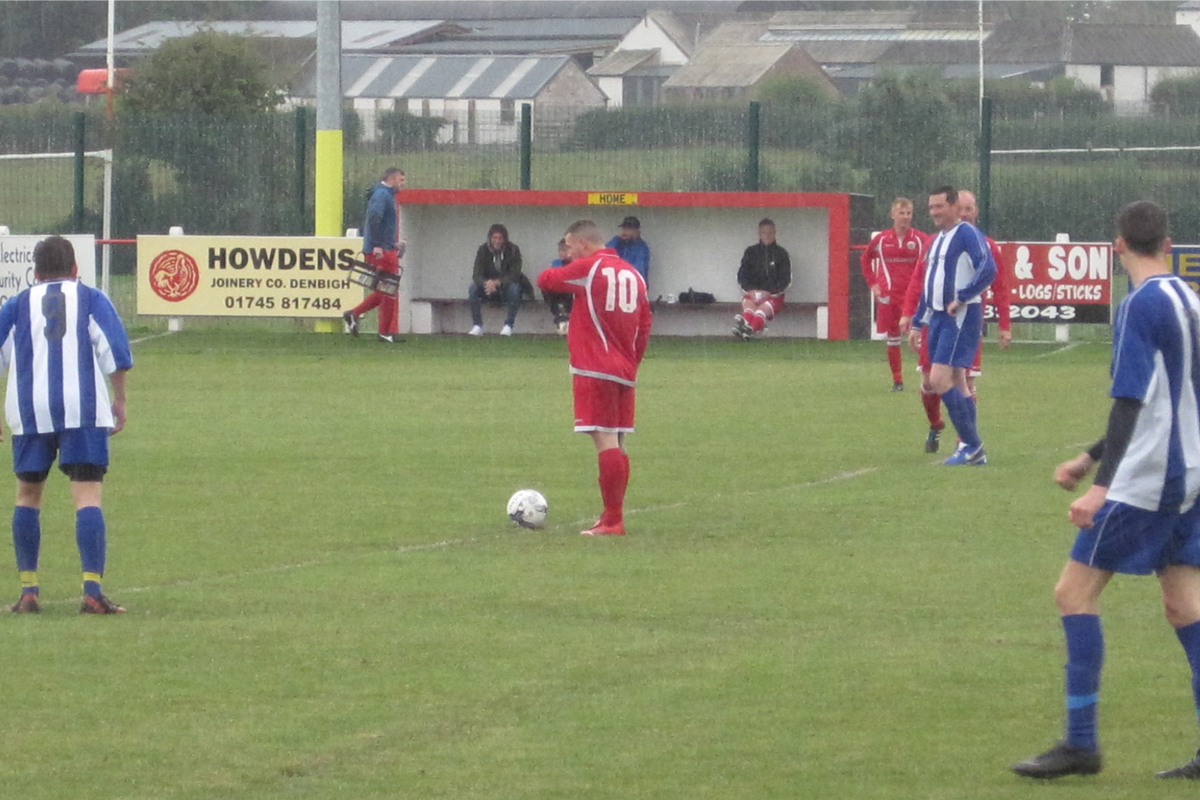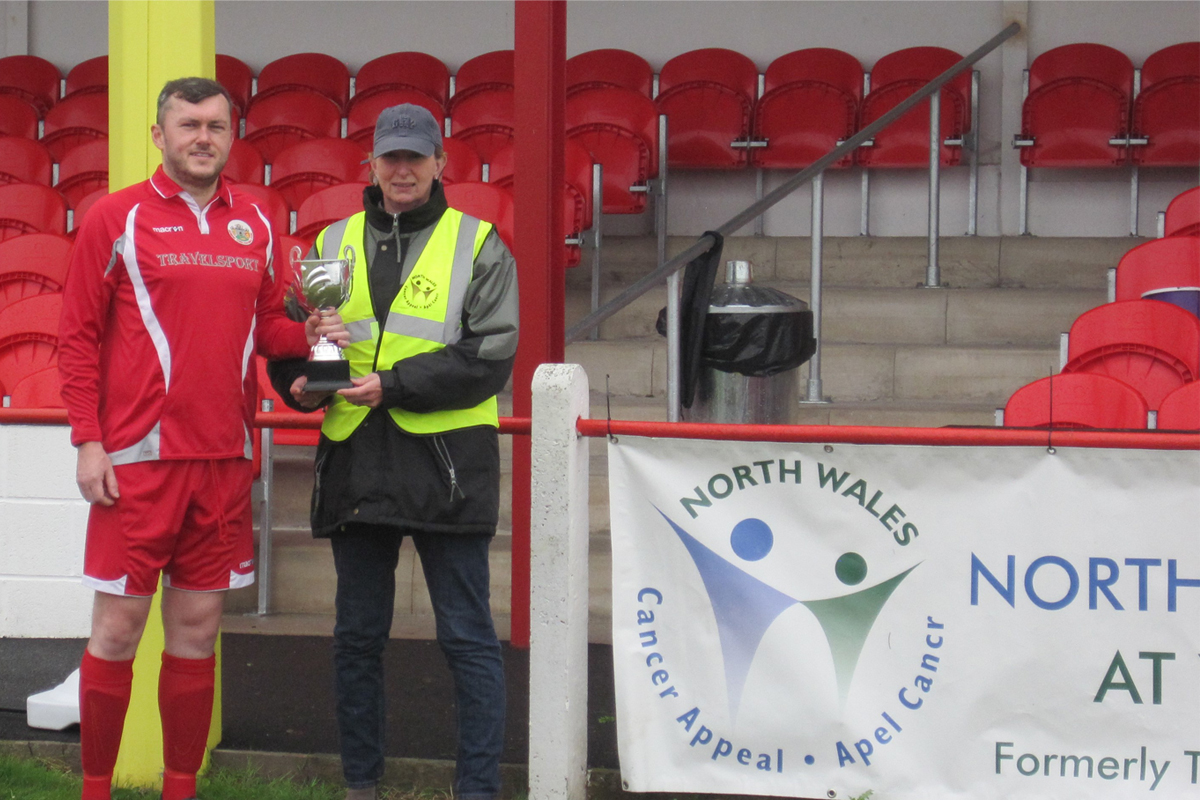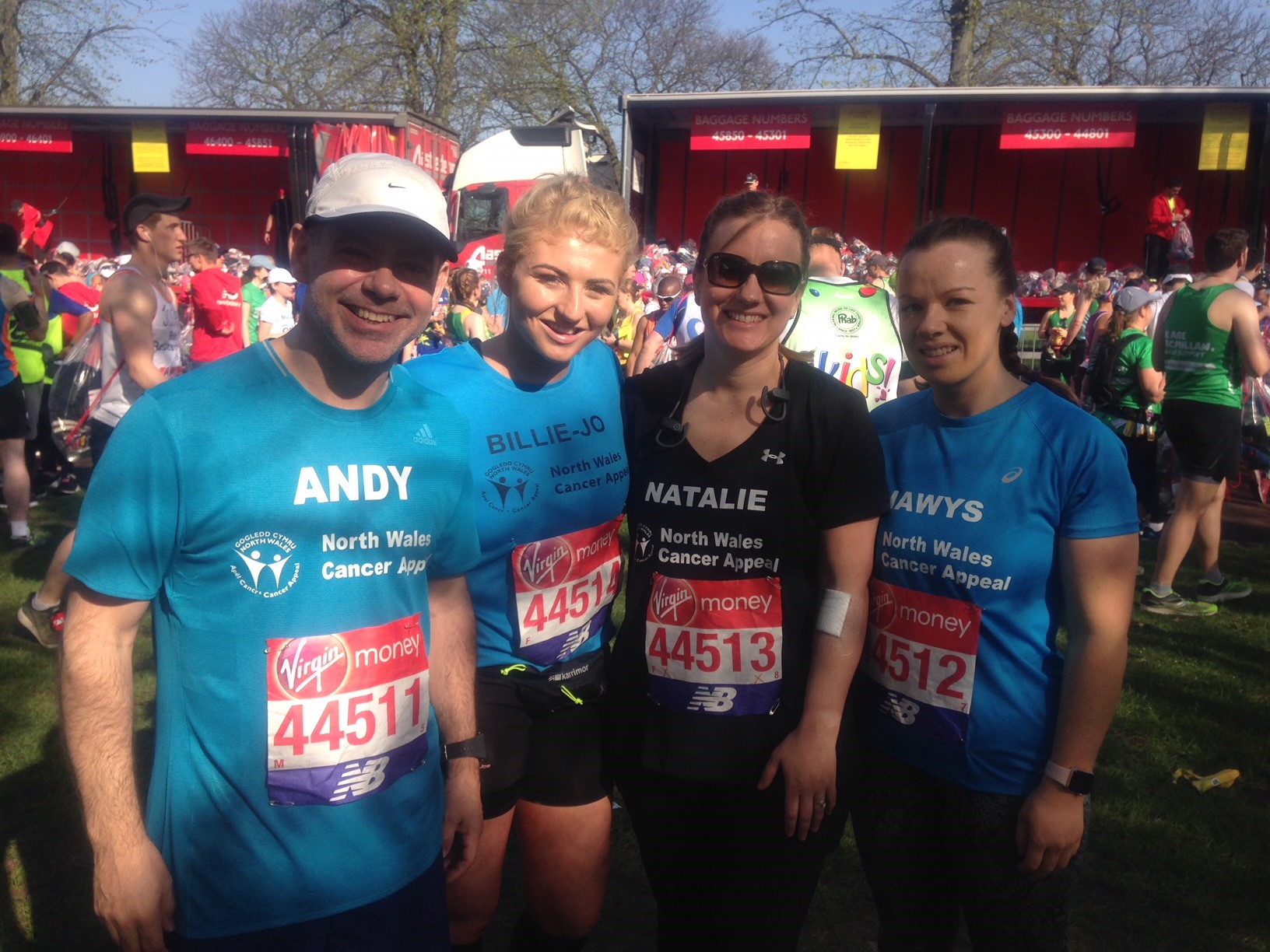 2018 Marathon Fundraising
The four runners who tackled this year's Marathon have absolutely smashed previous totals with a massive £20.381.11 added to the NWCA funds.
All four runners did spectacularly well first finishing the gruelling 26 mile course in very hot conditions and their fundraising efforts were amazing.
Hawys Roberts - £6,689.74
Billie Jo Davies - £6,646.81
Andy Knapp - £5095.98
Natalie Maurice Evans - £1,848.58

Pictured are the runners at the Finish and we would like to thank them all for their valuable contribution to the North Wales Cancer Appeal.
29/07/18 North Wales Honda 116 Targa Tracks Rally

The annual 116 Car Club Targa Tracks Rally started at Glan Y Gors Karting in Cerrigydrudion on Sunday 29th July 2018. With competitors from all over the UK and Ireland taking part, 200 Drivers and Co Drivers signed on from 6am to commence a series of challenging tests all over North Wales.

The North Wales Cancer Appeal is the 116 Car Club nominated Charity and a Raffle for a free entry to next year's event in aid of the Charity was the first opportunity the 100 teams and their supporters had to donate to the cause.

With over 20 tests and 150 marshals supporting the event there were plenty of people back at Glan Y Gors at the end of the day to see the drivers and their fine array of cars return after a gruelling day.

The Car Club donated the grand total of £1,274.00 to the Charity and thanks go to the Organising Committee of the 116 Car Club and all the supporters of the event that made this fantastic total donation possible.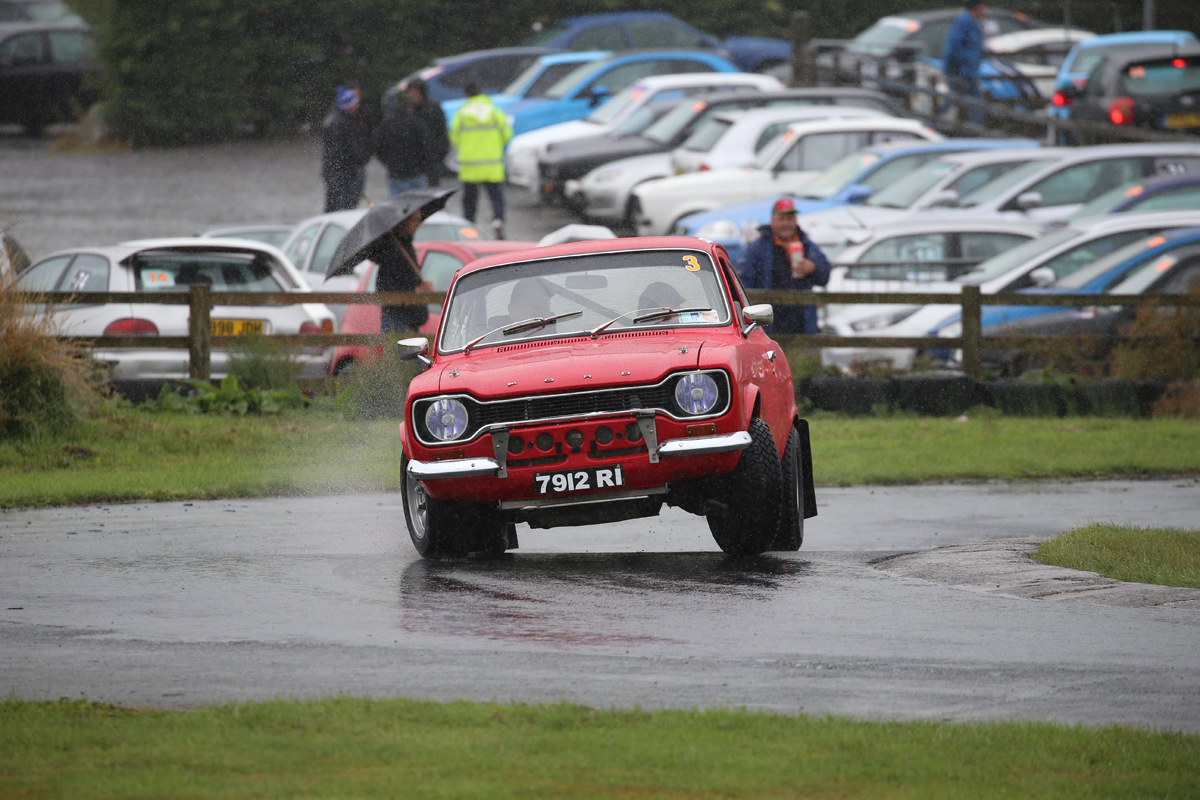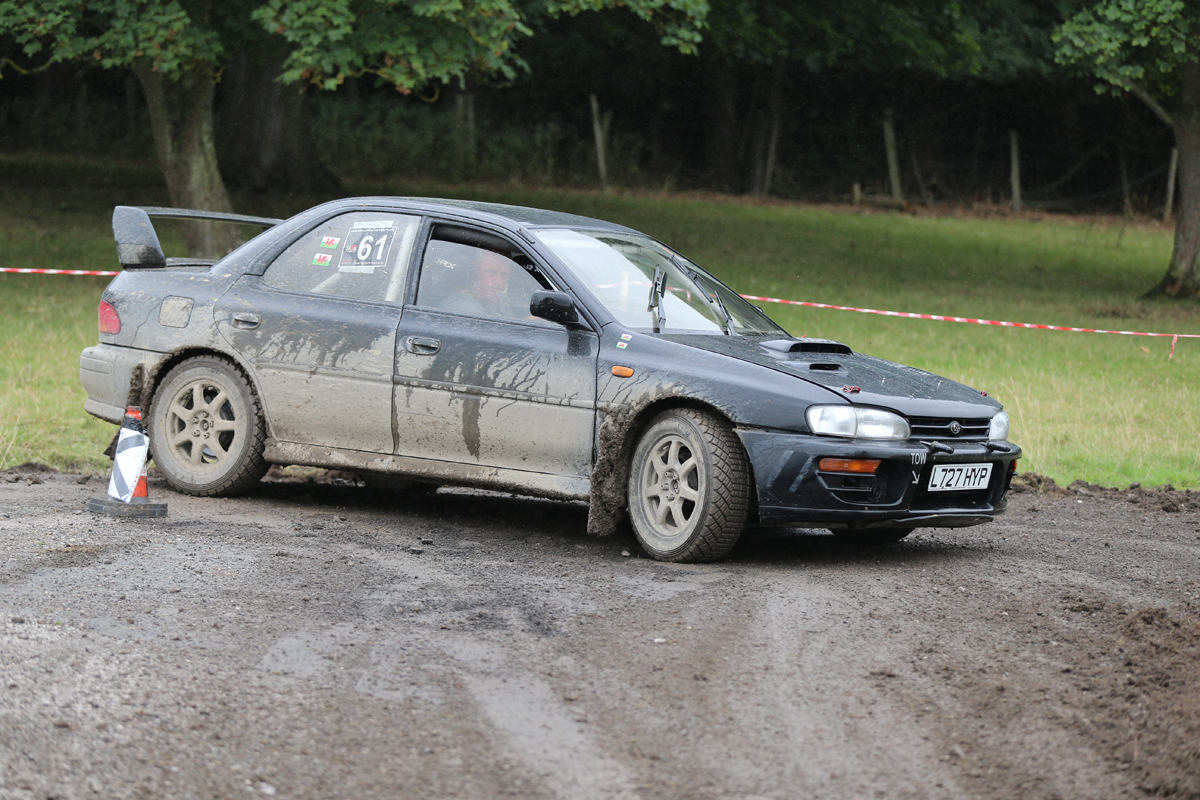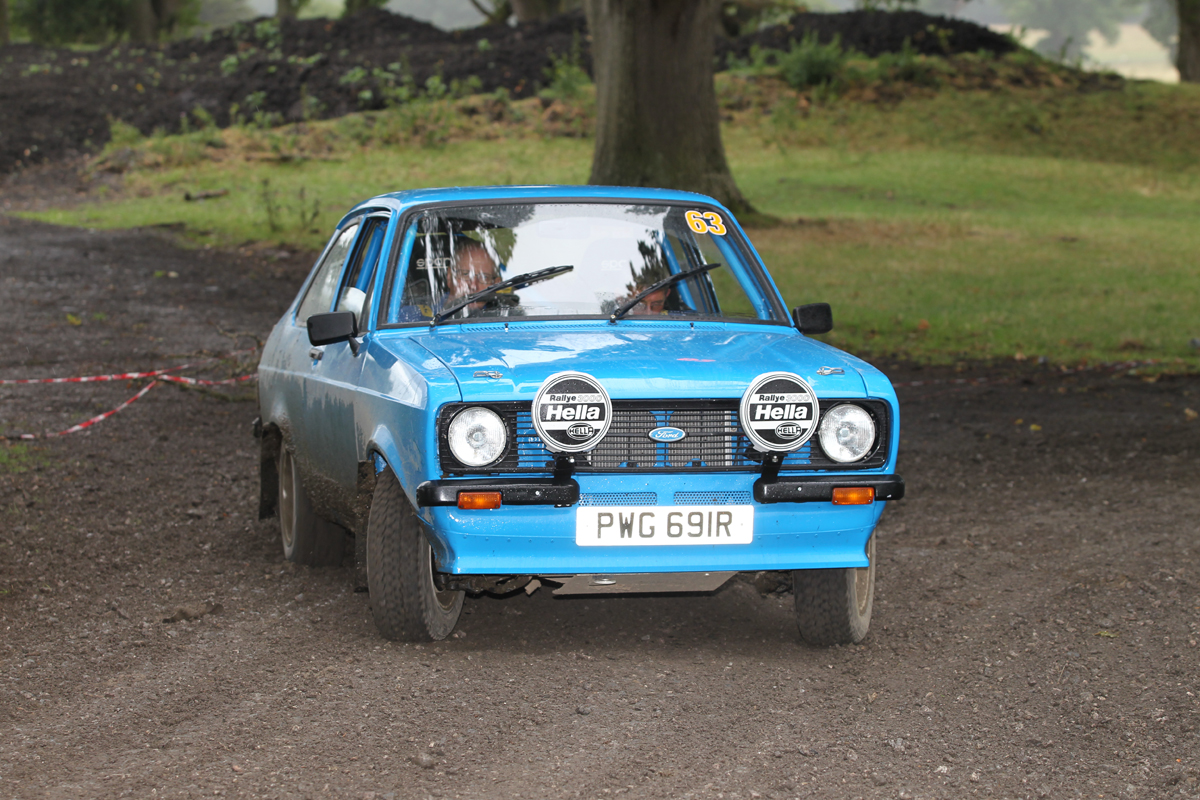 ---
The 116 Car Club Targa Rally, an event now in its second year takes place in July and is based at Glan Y Gors Karting in Cerrigydrudion. The Rally attracts competitors from all over the UK and this year saw 90 crews in cars covering tests all over North Wales and the 116 Map. Along with joint sponsor North Wales Honda the Club has taken the opportunity to raise funds for The North Wales Cancer Appeal, now the Club's nominated Charity and this year donated a cheque for £1,000.00.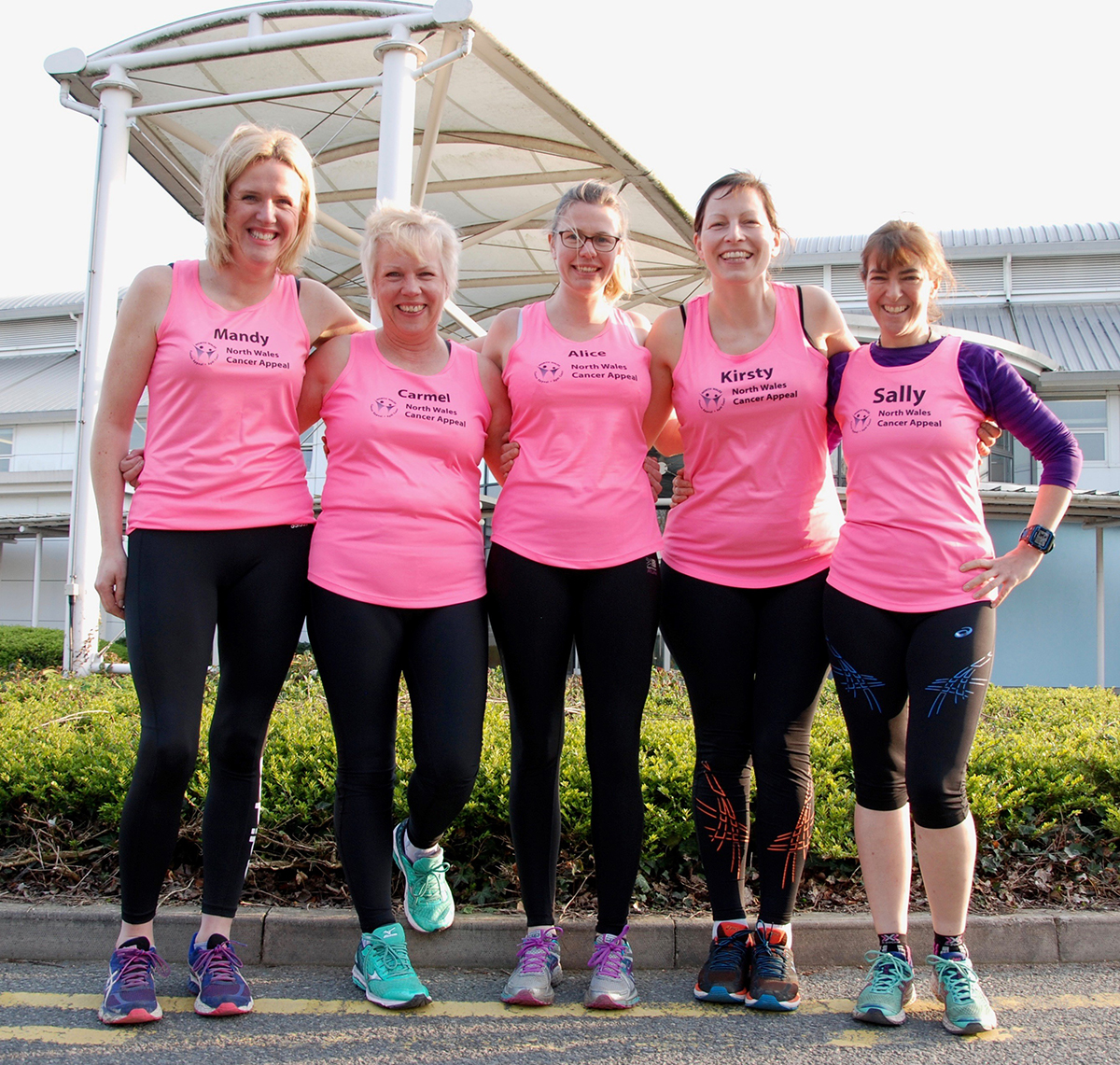 10/04/2017 - London Marathon 2017 – A show of force from the female contingent of Betsi Cadwalder University Health Board Staff is set to conquer the challenge of completing the London Marathon and at the same time raising much needed funds for The North Wales Cancer Appeal.
Working in a range of disciplines in the Health Board across North Wales, these hardy souls have been pounding the pavements for the past few months in preparation for their big challenge.
All first-time London Marathon runners the five ladies all gathered to swap training tips outside the North Wales Cancer Treatment Centre last week (Pictured from left to right Mandy Watkins, Carmel Barnett, Alice Roberts, Kirsty Thomson and Sally Jones)
The 'Pink Perils' as they are now affectionately known all have their own motivations for wanting to run the Marathon and raise money for the Appeal, but the one thing they do have in common is they are all determined to finish and raise as much money as possible.
Carmel Barnett is Radiotherapy Services Manager at the Cancer Treatment Centre and Kirsty Thomson is Head of Fundraising for Awyr Las. Alice Roberts is training to be a Clinical Scientist in Audiology at Wrexham Maelor and Sally Jones is a GP in Bodnant Surgery in Bangor.
If you want to support any of the ladies – go to their Virgin Money Giving Site and pledge your donation – they will be thrilled to receive your support. Click on any of the links below to donate:

Kirsty Thomson
Click here to donate to Kirsty
Carmel Barnett
Click here to donate to Carmel
Alice Roberts
Click here to donate to Alice
Sally Jones
Click here to donate to Sally
Mandy Watkins
Click here to donate to Mandy
All donations will go to The North Wales Cancer Appeal which operates under the Awyr Las Charitable Trust Registration
---
The London Marathon has played an important role in this area of achievement as the Ron & Margaret Smith appeal Committee had the foresight to engage in securing London Marathon Gold Bond status some years ago and now enjoys the benefit of being able to purchase places for runners to raise funds for The Appeal.
To date the London Marathon fundraising has contributed over £60,000 to the Appeal and continues to be an important source of funding. Long may a line of hardy individuals be queuing up, wanting to pound the pavements through those long winter months.