Archive News
A TEAM EFFORT AT HONEYWELL REAPS REWARDS FOR THE NORTH WALES CANCER APPEAL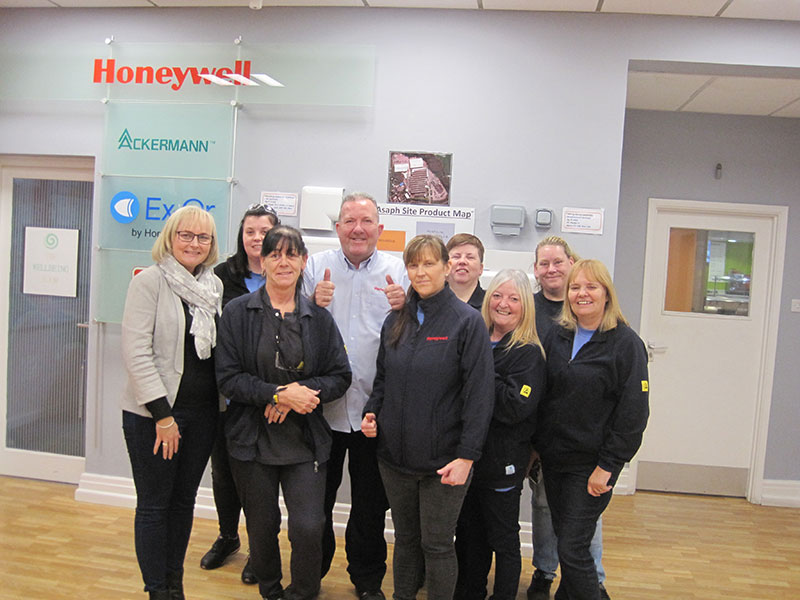 Tracey Ham (Centre Front) with Lynn Twist (Left), Danielle Sheldon (Daughter Back Left) and work colleagues Dave Beech, Jayne Oates, Helen Ross, Jackie Bryan, Anita Taylor & Tracy Alexandra

Tracey Ham from Rhyl decided she had such fantastic treatment and care at The North Wales Cancer Treatment Centre, Ysbyty Glan Clwyd that when she finally got the all clear in February 2018 she was going all out to show her gratitude with some proactive fundraising.

Tracey was diagnosed with cervical cancer in August 2017 and embarked on a course of treatment which meant regular visits to the Cancer Treatment Centre at Ysbyty Glan Clwyd and some specialist scans and treatment at Wrexham Maelor and Clatterbridge Hospitals.

Thankfully, with the support of her family, the clinical and nursing staff who treated her and her employer, Honeywell in St Asaph, she is now back to work, fighting fit and was keen to do something practical to say thank you.

Tracey, assisted by her daughter, Danielle Sheldon, who also works at Honeywell, along with colleagues from the St Asaph and Runcorn production sites, organised a grand Christmas Raffle which raised a total of £733.60.

Tracey said, 'I was so grateful for the quality of the care and compassion I received throughout my treatment that I decided to put something back into the Cancer Treatment Centre. Thanks to my colleagues at Honeywell, especially Lynn Twist from HR and Keith Williams, Site Leader, who not only supported me throughout my treatment but then allowed me to carry out my fundraising prior to Christmas, they helped the team achieve such a great total.

The North Wales Cancer Appeal struck me as a worthy cause from which staff and patients benefit directly from the volunteer run work they carry out and I was only too pleased to hand over the proceeds of my fundraising to such a worthy cause.'

Pictured below some of the fundraising team with Tracey, her daughter Danielle and Lynn Twist, Honeywell HR Department.
---
Denbigh Round Table Donation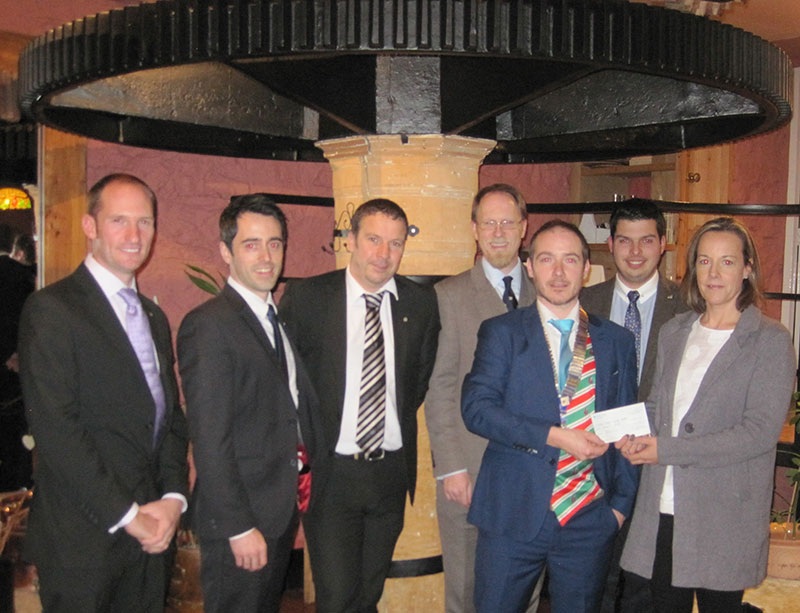 Denbigh Round Table has recently donated £1,000, proceeds from their very popular Beer Festival held on Saturday 22nd September 2018.
We are enormously grateful to the Committee and Supporters of this Annual Event for their generosity and for choosing The North Wales Cancer Appeal to benefit from this fantastic donation. For more details on the Beer Festival click on this link https://www.roundtable.co.uk/news/denbigh-charity-beer-festival-2018
---
Sponsored Head Shave for Friend of 45 Years
Joy Groom, originally from Ffynnongroyw but now living in Northampton, recently learned her best friend of 45 years had be diagnosed with breast cancer. Theresa told her that her chemotherapy treatment would lead to hair loss, so Joy decided since they had shared so many brilliant times together over the years, why not do this together too? So Joy had her head shaved and is donating her hair to the Little Princesses Trust so they can make wigs for children but also raising money for the North Wales Cancer Appeal at the same time.

Pictures is Joy with Theresa and showing the' before and after'. Setting a target of £350.00, Joy at time of writing this article has raised over £1,100 on her Virgin Money Giving site.

To donate to the North Wales Cancer Appeal and support Joy in her fantastic act of selflessness please go to  http://uk.virginmoneygiving.com/JoyGroom

Thank you to Joy for her support of the Charity and we hope your hair grows back before the weather turns too cold!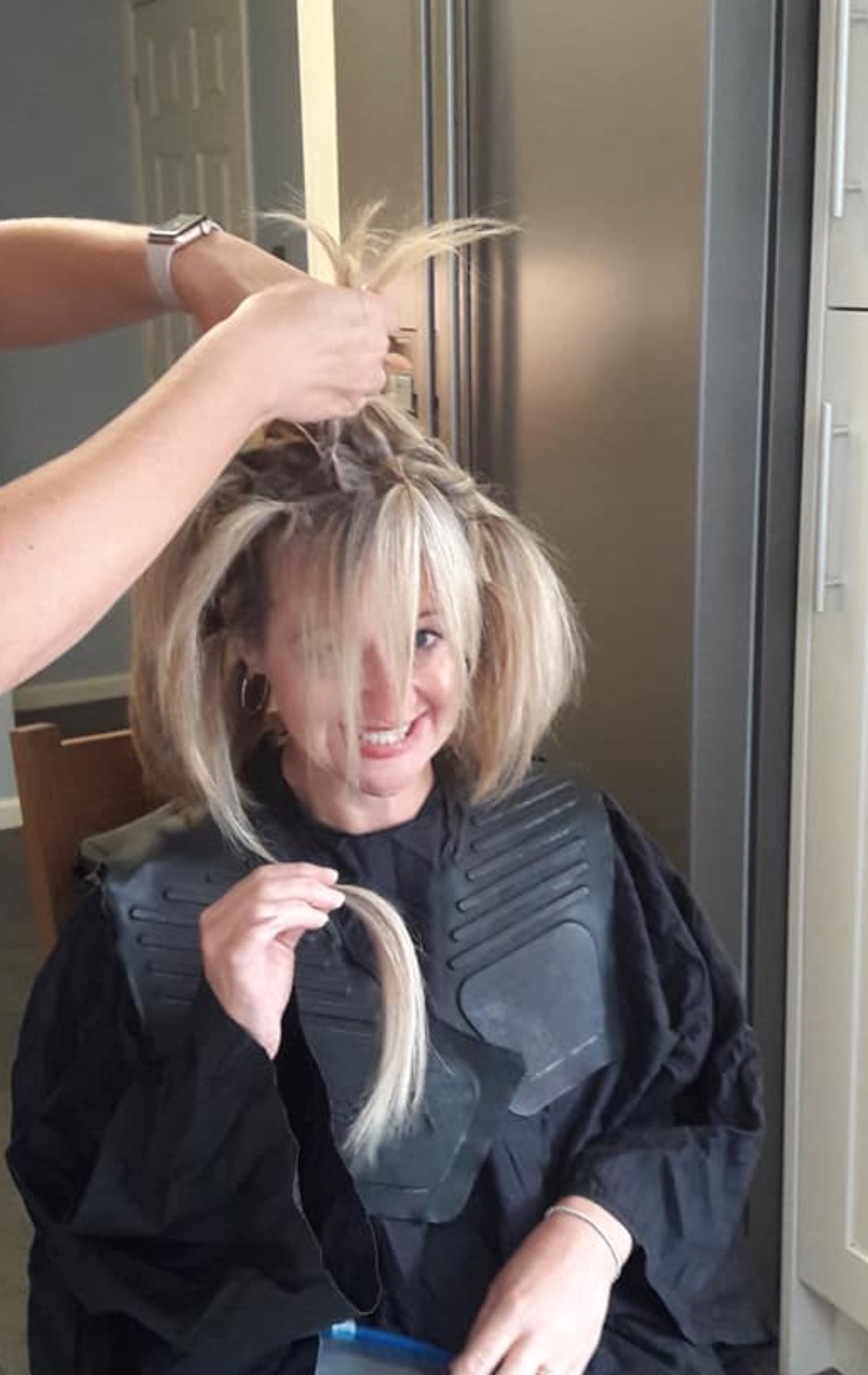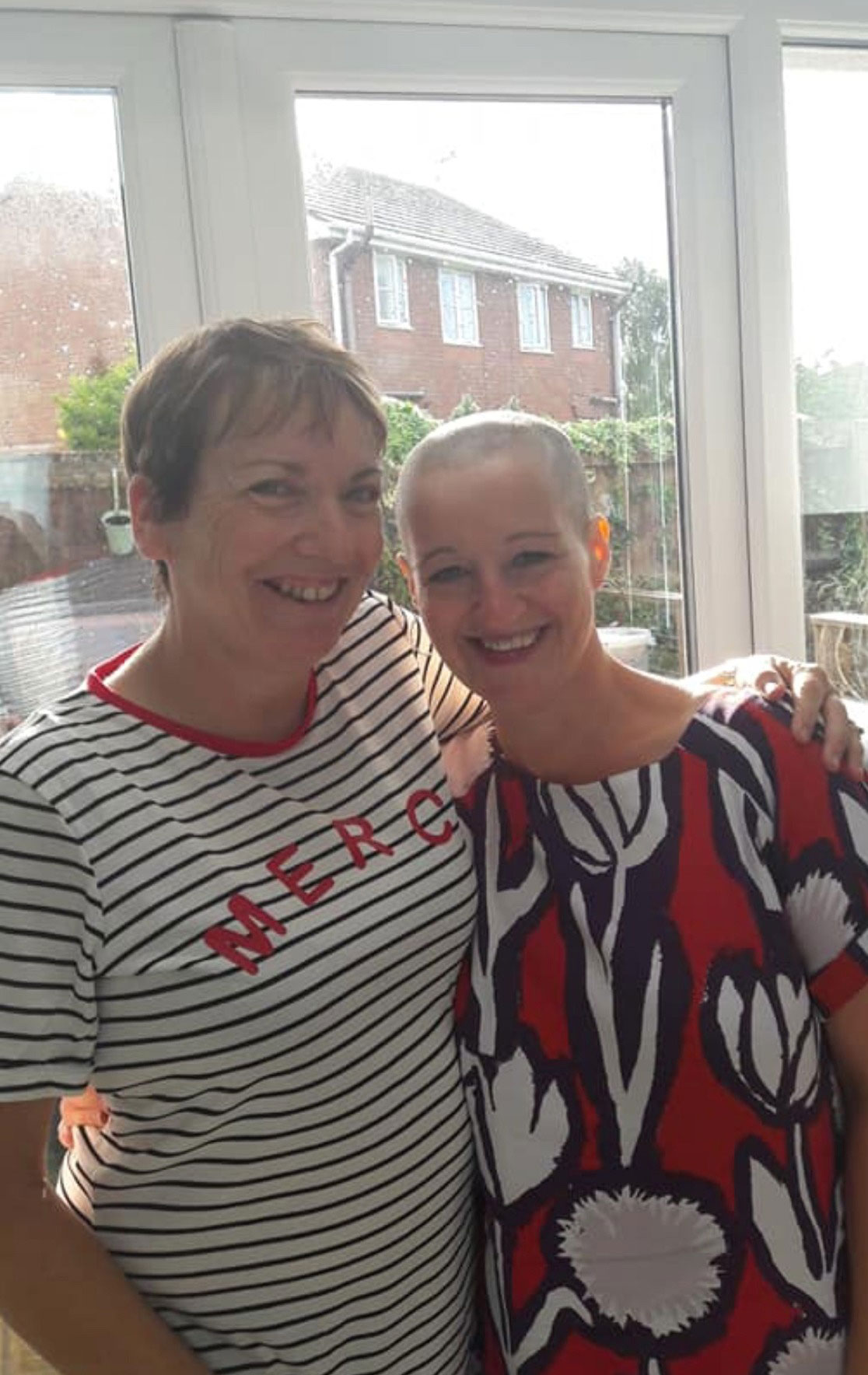 ---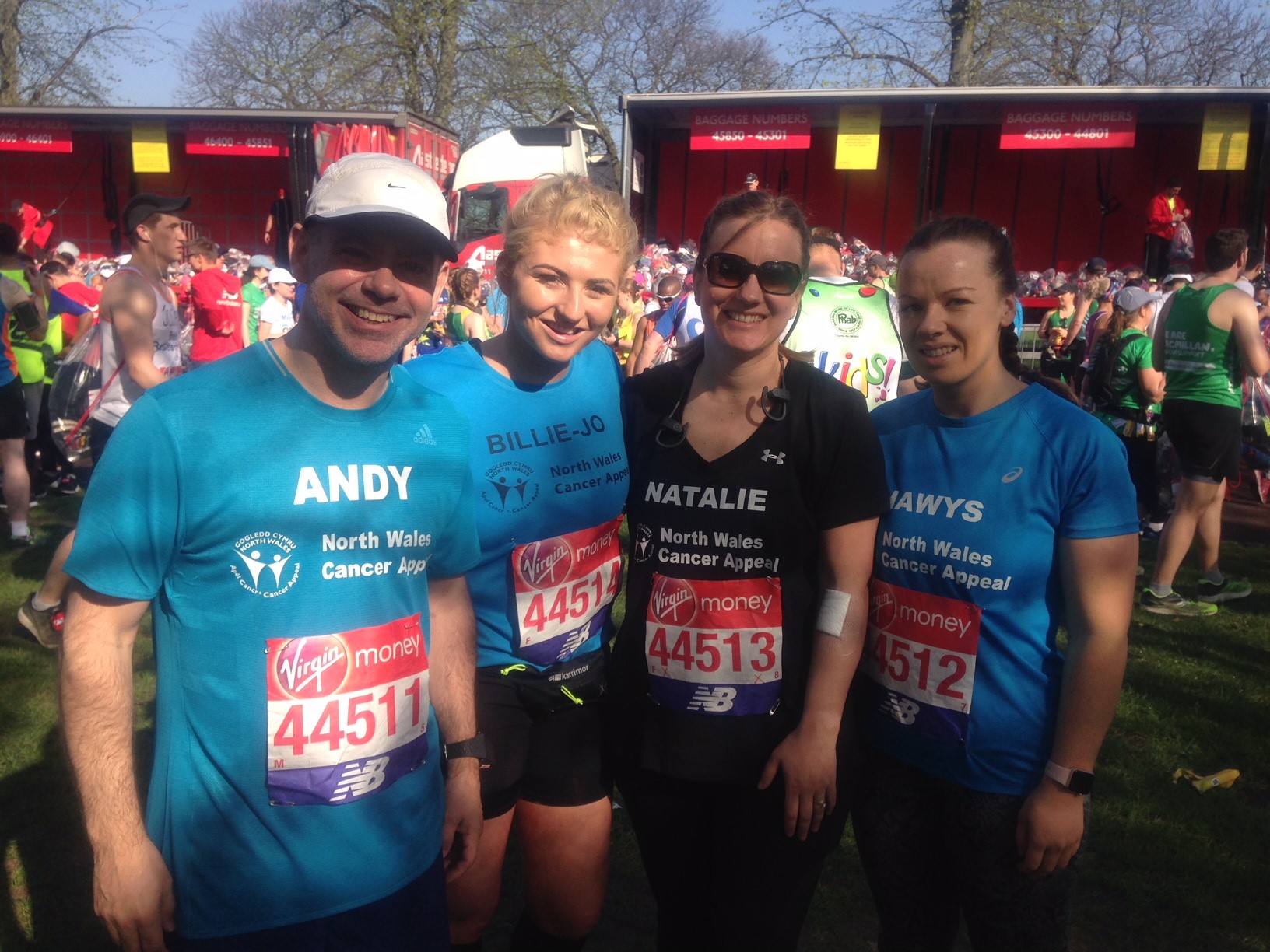 2018 Marathon Fundraising
The four runners who tackled this year's Marathon have absolutely smashed previous totals with a massive £20.381.11 added to the NWCA funds.
All four runners did spectacularly well first finishing the gruelling 26 mile course in very hot conditions and their fundraising efforts were amazing.
Hawys Roberts - £6,689.74
Billie Jo Davies - £6,646.81
Andy Knapp - £5095.98
Natalie Maurice Evans - £1,848.58

Pictured are the runners at the Finish and we would like to thank them all for their valuable contribution to the North Wales Cancer Appeal.
---
29/07/18 North Wales Honda 116 Targa Tracks Rally

The annual 116 Car Club Targa Tracks Rally started at Glan Y Gors Karting in Cerrigydrudion on Sunday 29th July 2018. With competitors from all over the UK and Ireland taking part, 200 Drivers and Co Drivers signed on from 6am to commence a series of challenging tests all over North Wales.

The North Wales Cancer Appeal is the 116 Car Club nominated Charity and a Raffle for a free entry to next year's event in aid of the Charity was the first opportunity the 100 teams and their supporters had to donate to the cause.

With over 20 tests and 150 marshals supporting the event there were plenty of people back at Glan Y Gors at the end of the day to see the drivers and their fine array of cars return after a gruelling day.

The Car Club donated the grand total of £1,274.00 to the Charity and thanks go to the Organising Committee of the 116 Car Club and all the supporters of the event that made this fantastic total donation possible.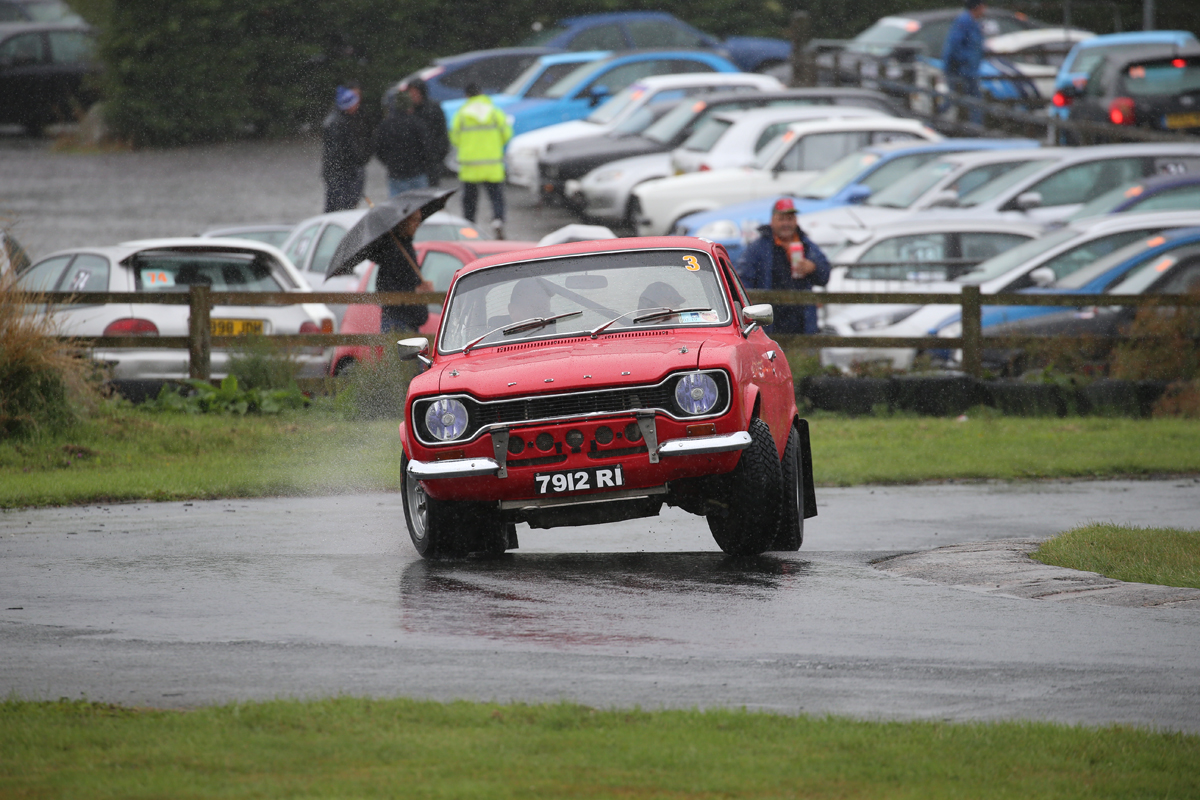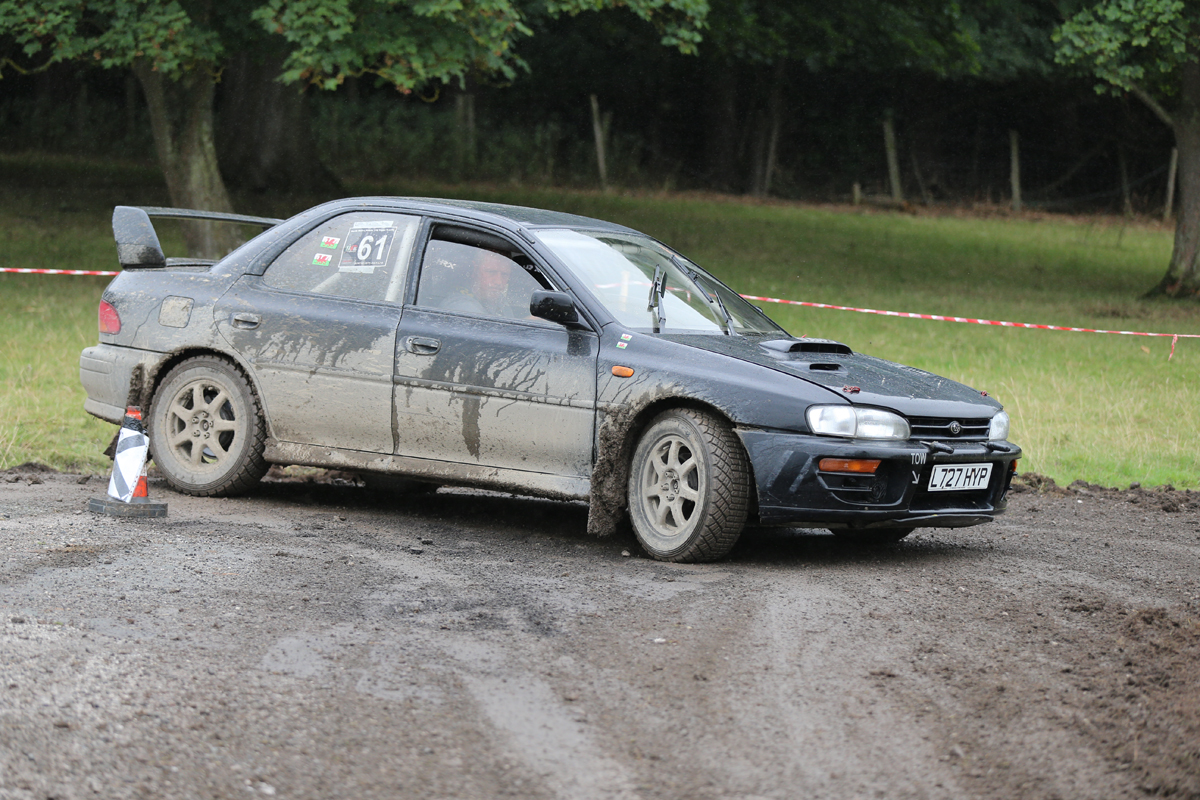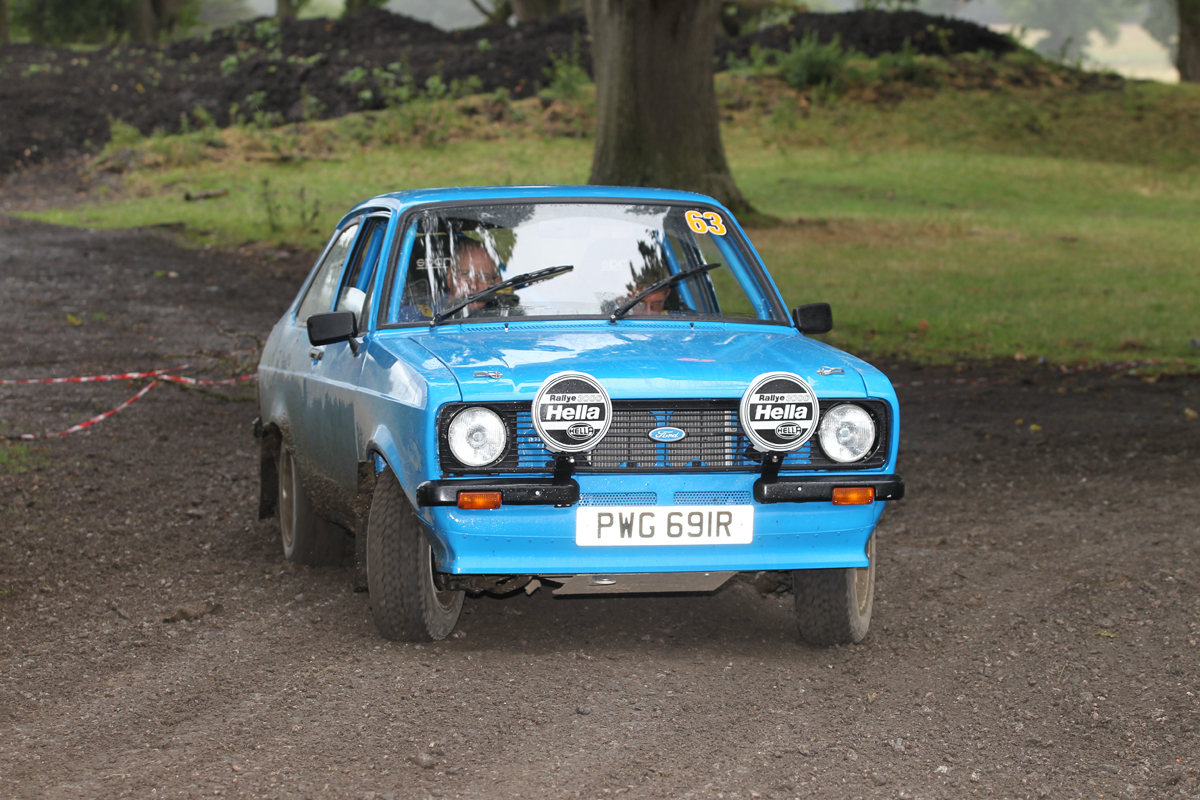 ---
Ladies Lunch 2018 Brookhouse Mill Denbigh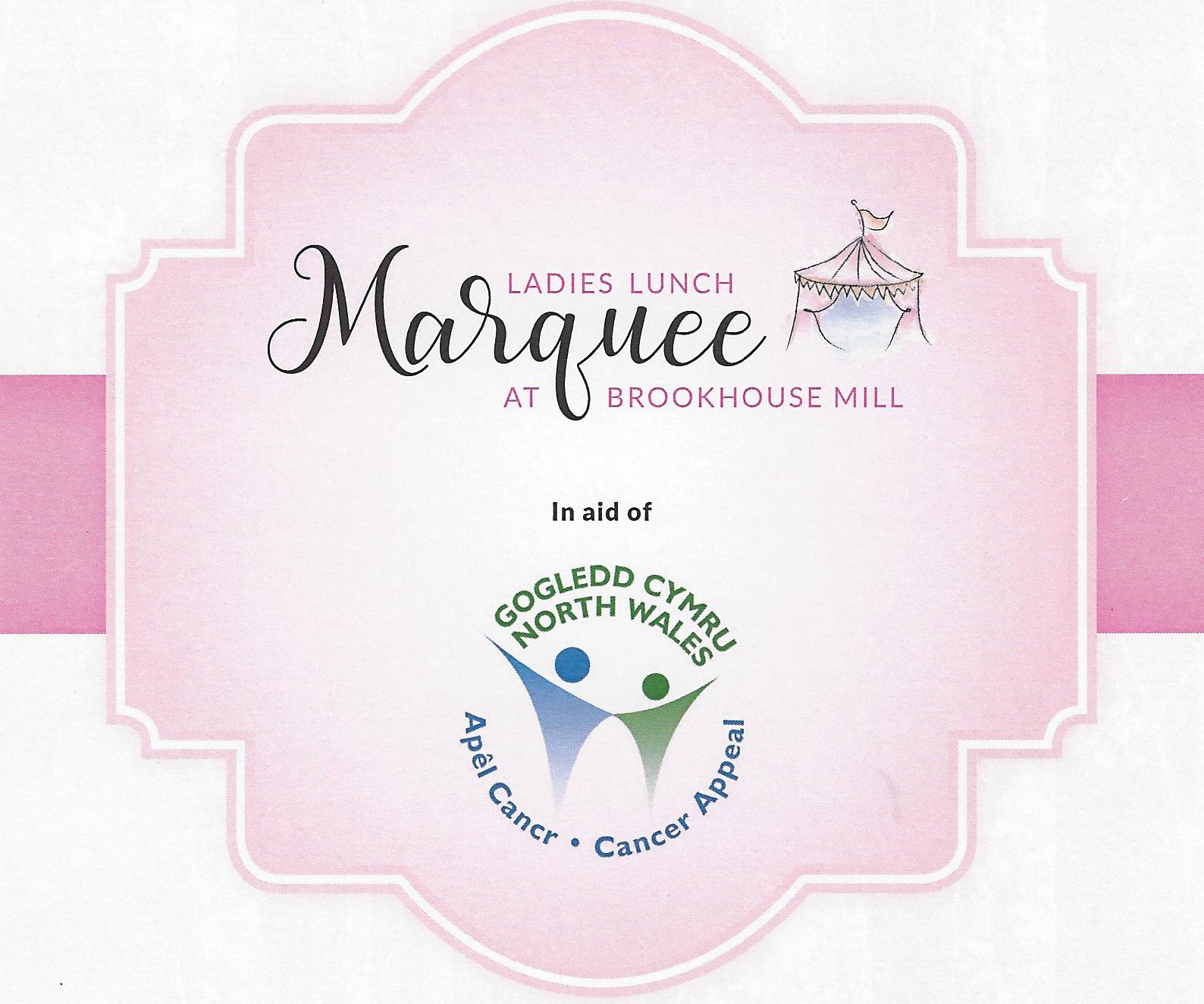 Now an annual event the Ladies Lunch held at The Brookhouse Mill in Denbigh on Saturday 18th July 2018, once again proved a popular and well support 'must attend' occasion.
Thanks to the hard work and efforts of Karen & John Hall and their team at Brookhouse Mill , 130 guests enjoyed a Prosecco and Canape Reception followed by a delicious two course meal. Local businesses provided invaluable support with stalls and donations for the Raffle and Auction and as a result the event raised the fantastic total of £3,000.00.

Guests went home with a wonderful array of Raffle & Auction lots which were as follows:

Raffle
| | |
| --- | --- |
| Denbigh Choc Shop | Chocolates & Chocolate Pizza |
| Baroque, Denbigh | £50 Voucher |
| Brookhouse Mill    | Meal Voucher for 4 People |
| Homeward Bound | Afternoon Tea for 2 |
| Meirion Davies, Denbigh     | Gift Voucher |
| Tweedmill Shopping Outlet | Afternoon Tea for 2 |
| James Fearon Wines   | Magnum of Prosecco |
| Baa Stool, Denbigh    | Sheepskin Cushion |
| Terri Wilde Artist    | Fuchsia Painting |
| Stephs Beauty Lounge, Holywell | £30 Gift Voucher |
| Tommys Hair Company  | Gift Voucher & Treatment |
| Tesco Ruthin | Tesco Finest Products Hamper and Pink Prosecco |
| Pure Lovely Designs | Novelty Sign |
| Natures Treasures | Bottle of Prosecco & Wine |
| Shlizzy  | Flavoured Artisan Gins |
| Studio 13, Denbigh     | Necklace |
Auction
Framed Prints of Border Terriers and Hounds by Elizabeth Halstead
Pamper Day from Tommys Hair Company
Try Dive with Fins, & Underwater Camera from British Scuba Diving Association
Great Spotted Woodpeckers Original Painting by Terri Wilde

Enormous thanks go to all the sponsors and guests who supported the event and we look forward to welcoming you to an even bigger gathering in 2019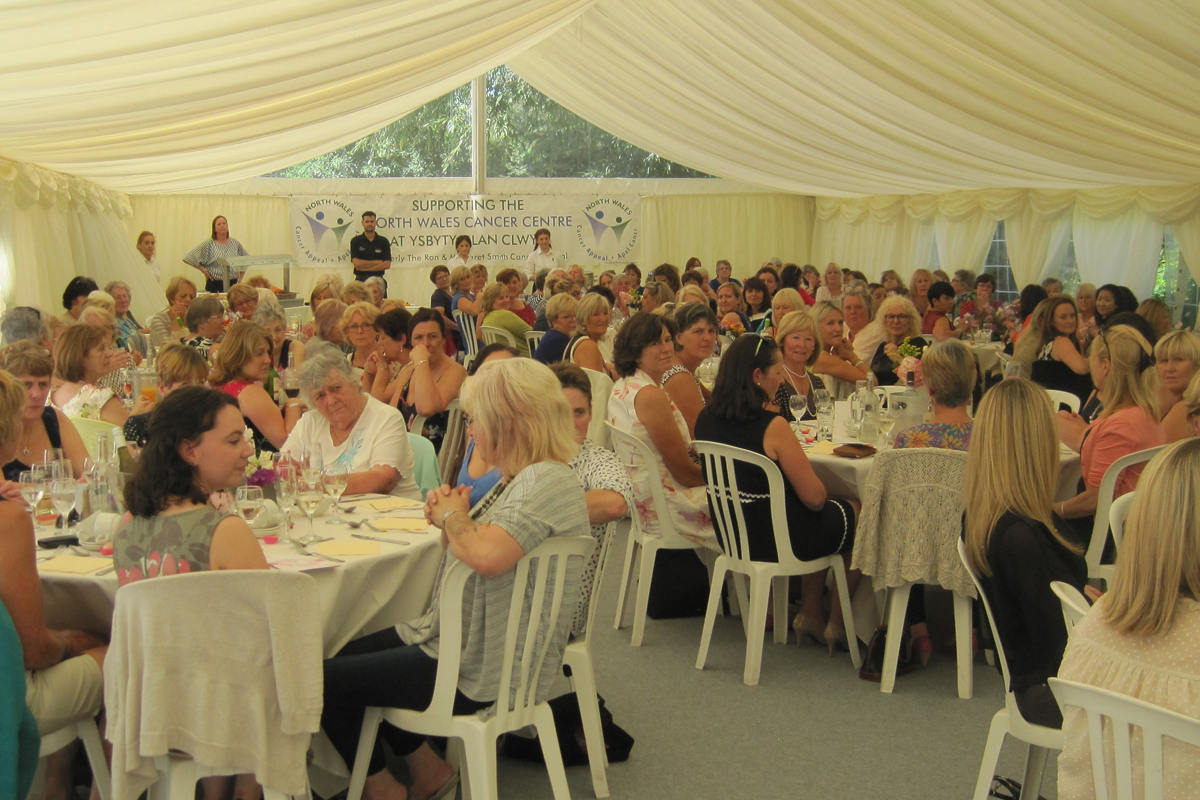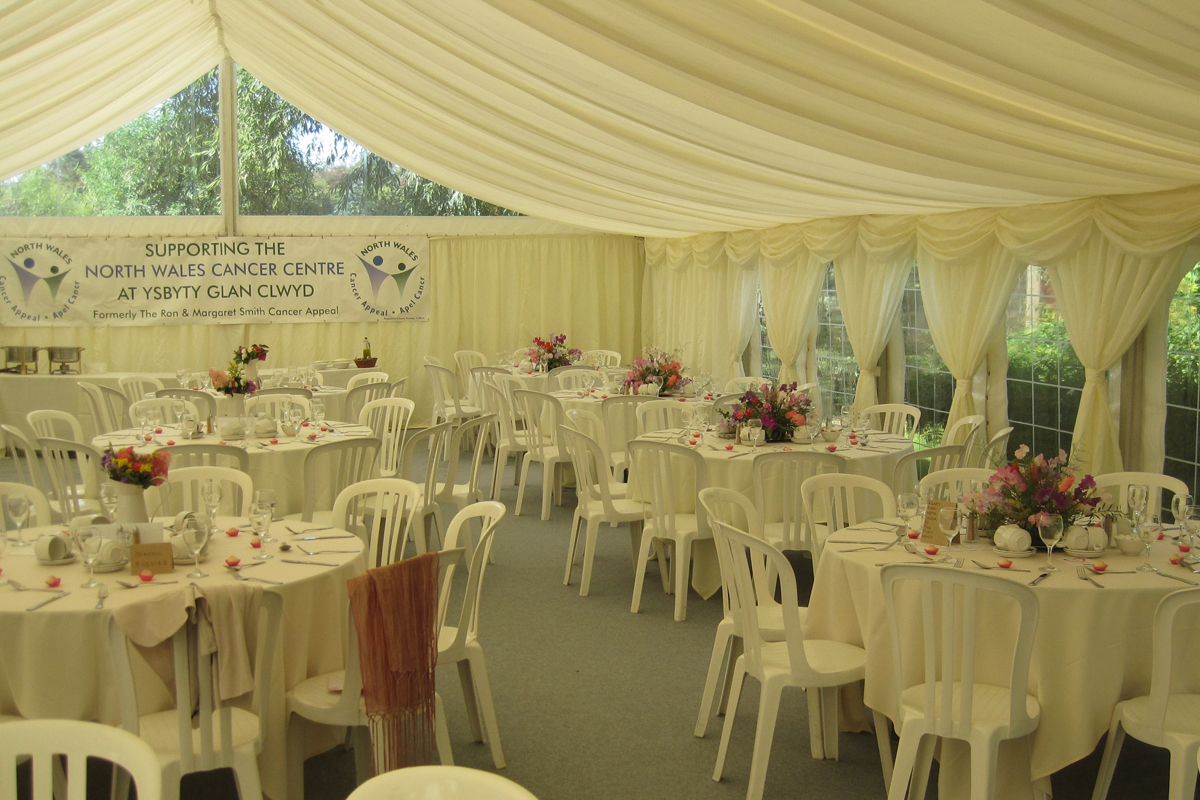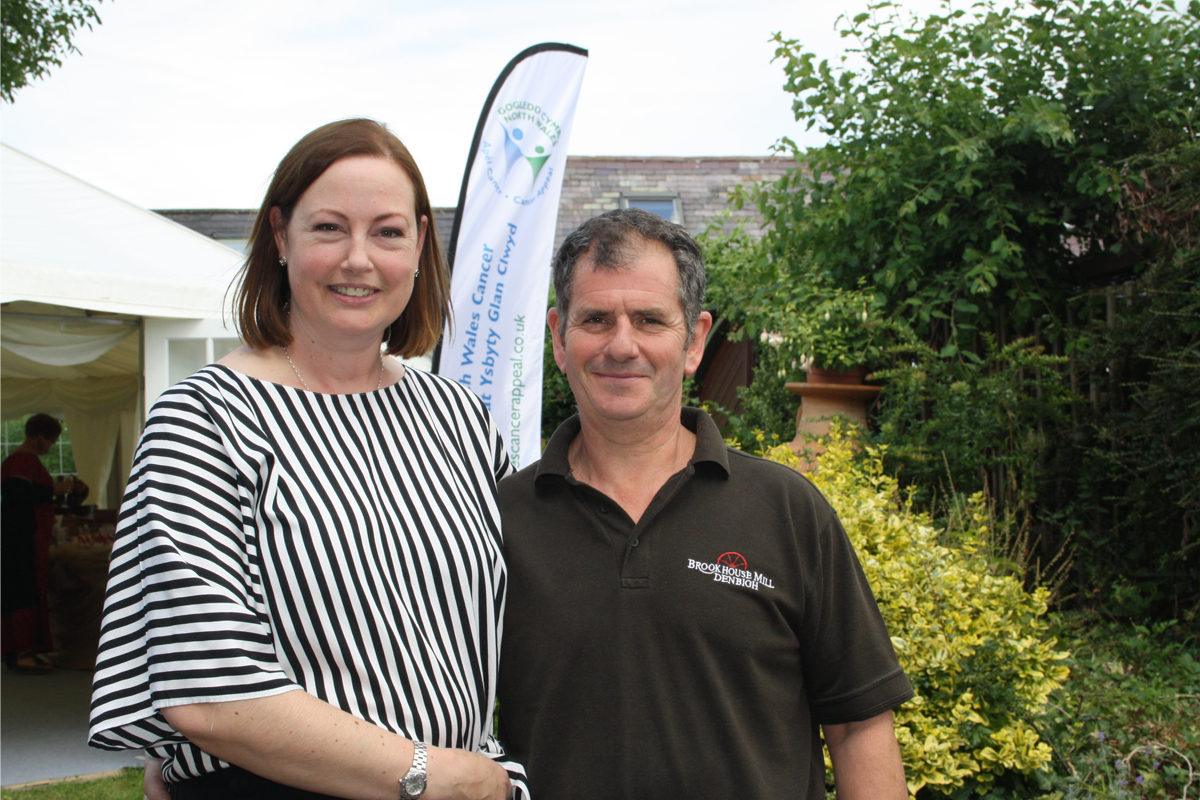 ---
Denbigh Town FC Charity Football Match
The Annual Uptown vs Downtown Charity Football Match took place at Denbigh Town FC on Bank Holiday Sunday 26th August. Despite a miserable wet start the teams turned out in force with a very energetic pre-match work out by the Uptown team and Kick Off went ahead at 11am prompt.
After their energetic pre match display the blue team (Uptown) took an early lead, however the final score was 4 -2 to the Downtown team and was followed by celebrations and commiserations after at a local hostelry. With the very generous support of players, supporters and members of the public over £1,200 was raised for the Charity
The Organisers kindly nominated the North Wales Cancer Appeal to benefit from the sponsorship proceeds and the very well supported bucket collection.
Our enormous thanks go to James Drury and the rest of the Organising Committee and Shaun Powell of Lock Stock for his help and support on the day.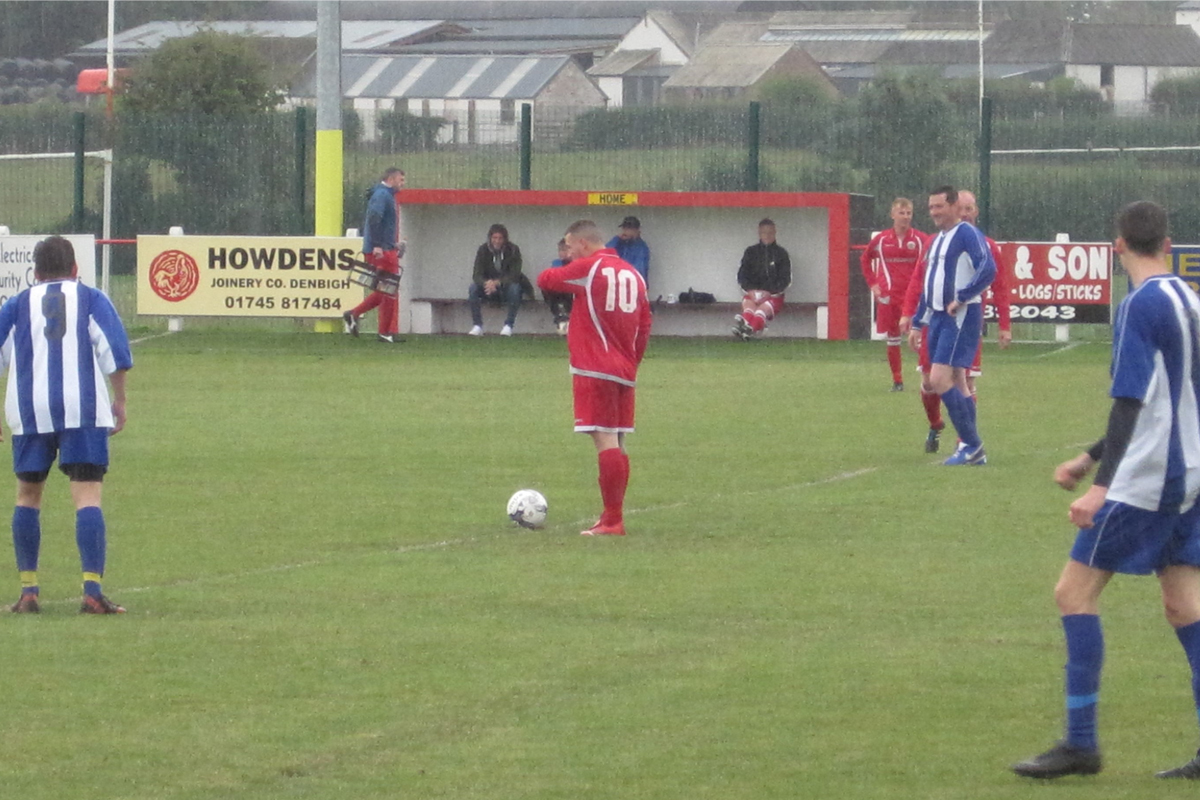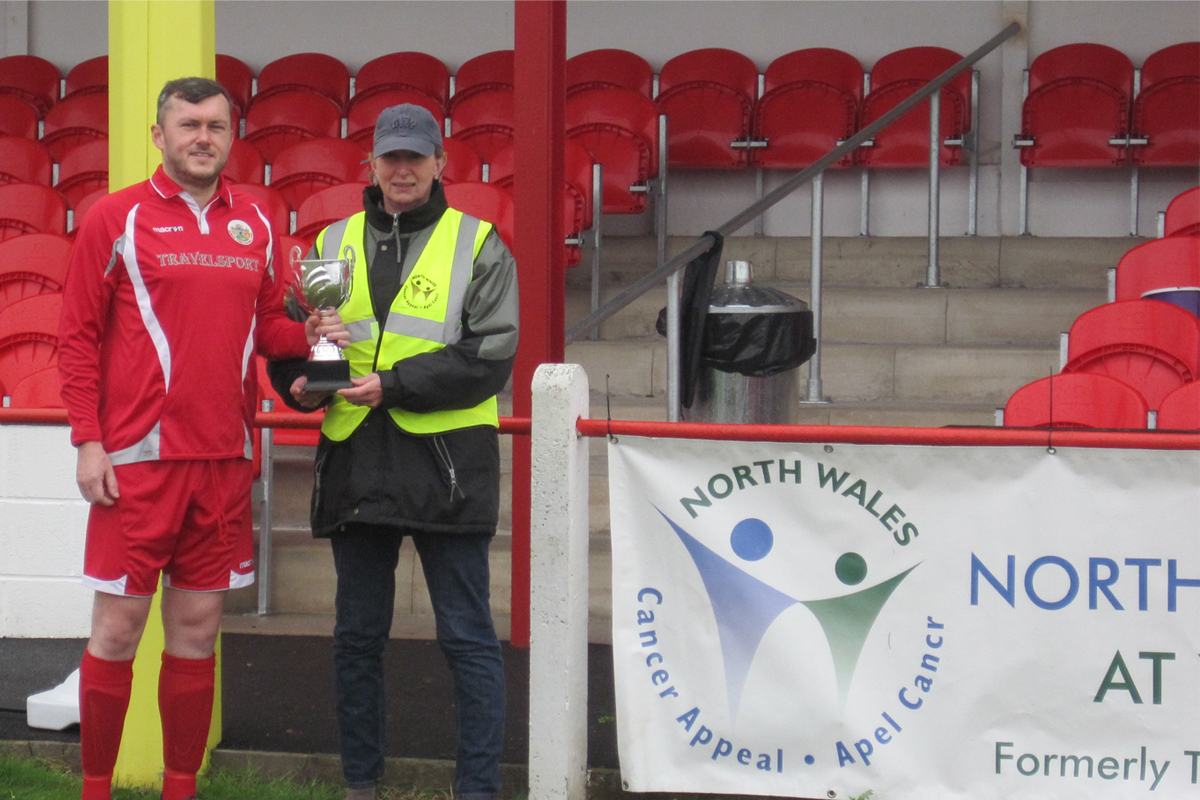 ---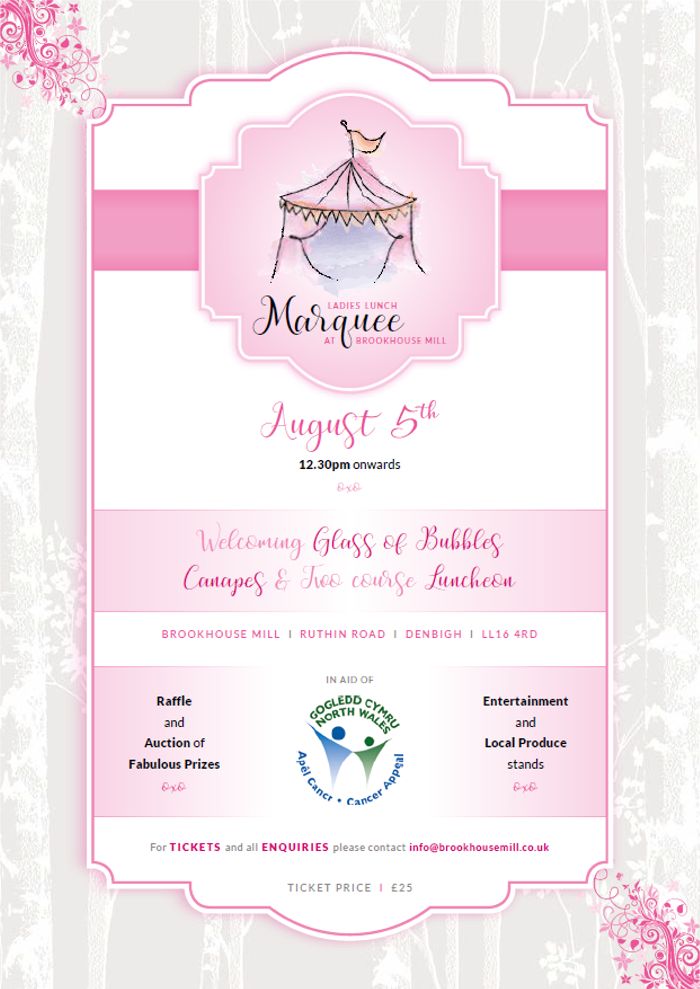 29/08/2017 - Marquee Ladies Lunch
The Marquee Ladies Lunch held at The Brookhouse Mill Denbigh on the 5th August raised over £2,500.00 for the North Wales Cancer Appeal
Sincere thanks go to Karen & John Hall for the fantastic marquee, food and entertainment and all the sponsors and kind donors of raffle and auction prizes for making the day a huge success and hopefully and annual event….
---
29/08/2017 - St Asaph Country Fayre
A team effort between the North Wales Cancer Appeal and 116 Car Club resulted in a great presence at the recent St Asaph Country Fayre.
116 Car Club put a fabulous stand in place displaying various Rally Cars – old and new which was shared by the 'Bucket Collection Crew' once again displaying eye catching costumes to capture asmuch attention as possible and Tigger even decided to join the Tug Of War team – which won!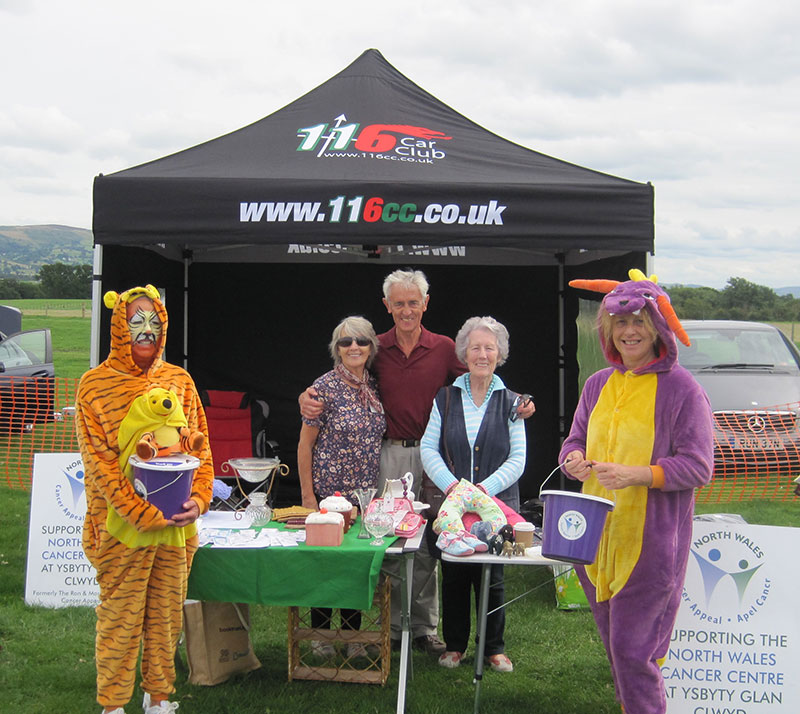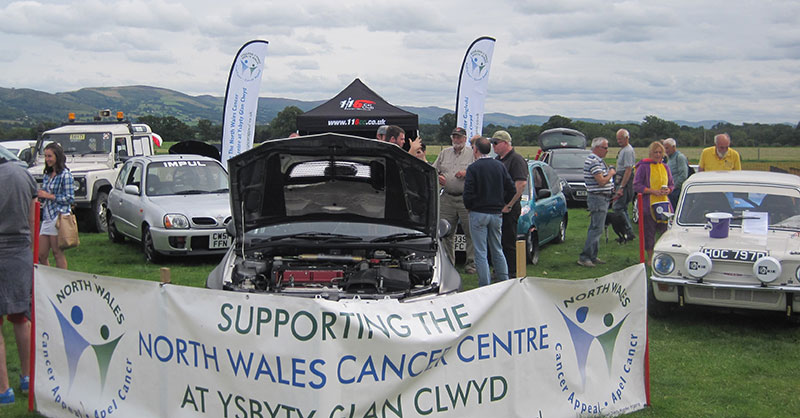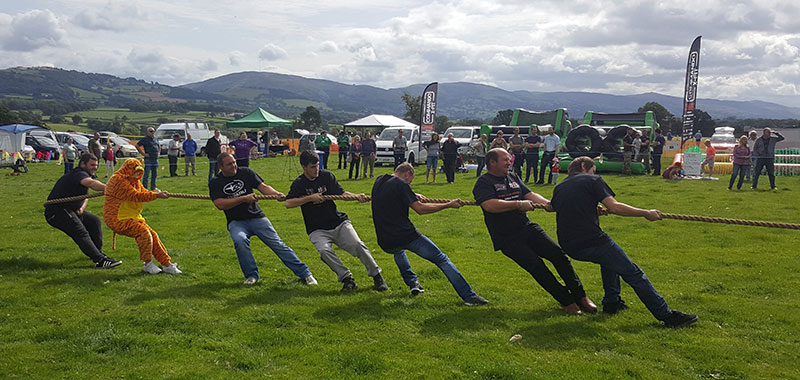 ---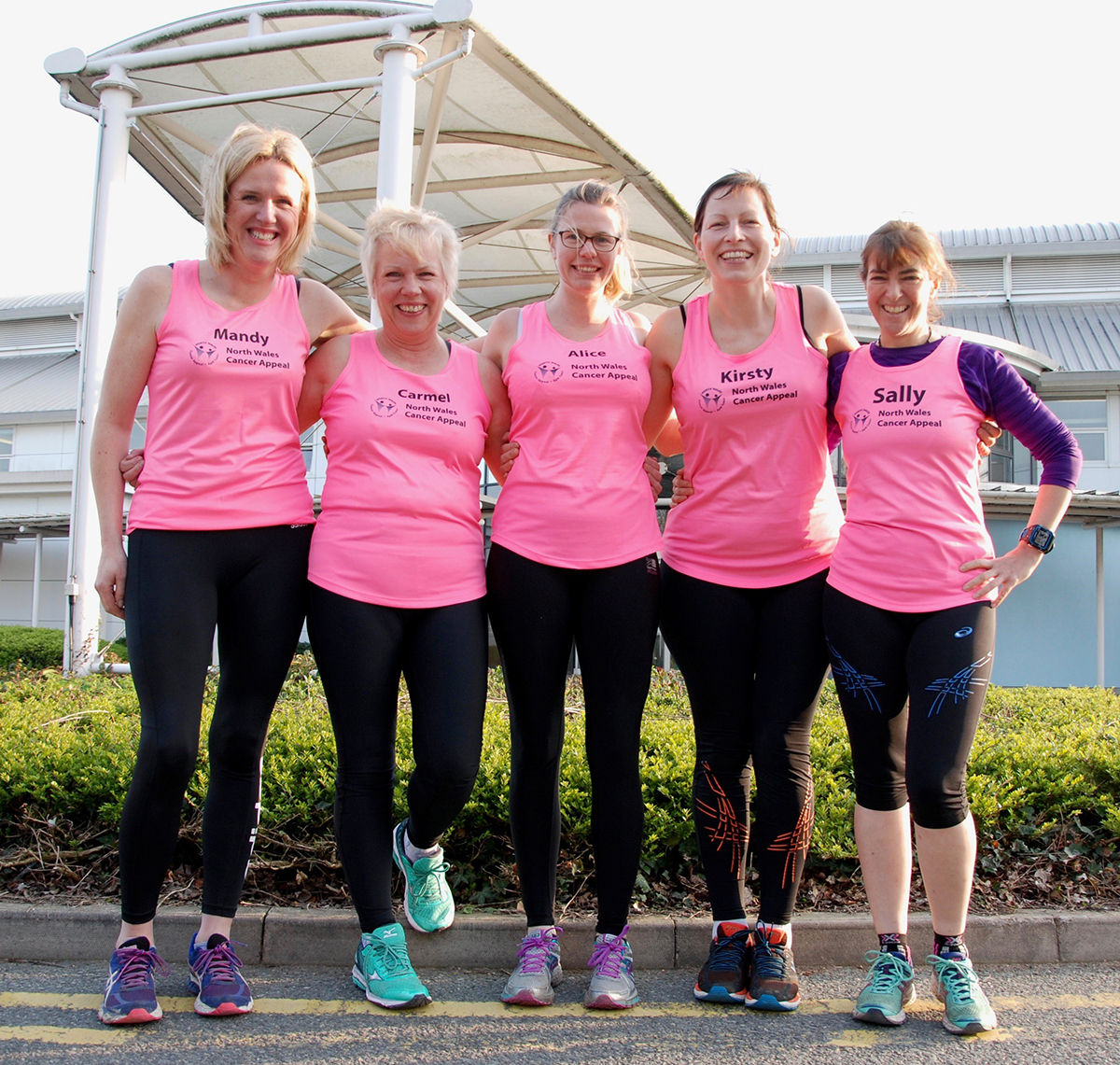 10/04/2017 - London Marathon 2017 – A show of force from the female contingent of Betsi Cadwalder University Health Board Staff is set to conquer the challenge of completing the London Marathon and at the same time raising much needed funds for The North Wales Cancer Appeal.
Working in a range of disciplines in the Health Board across North Wales, these hardy souls have been pounding the pavements for the past few months in preparation for their big challenge.
All first-time London Marathon runners the five ladies all gathered to swap training tips outside the North Wales Cancer Treatment Centre last week (Pictured from left to right Mandy Watkins, Carmel Barnett, Alice Roberts, Kirsty Thomson and Sally Jones)
The 'Pink Perils' as they are now affectionately known all have their own motivations for wanting to run the Marathon and raise money for the Appeal, but the one thing they do have in common is they are all determined to finish and raise as much money as possible.
Carmel Barnett is Radiotherapy Services Manager at the Cancer Treatment Centre and Kirsty Thomson is Head of Fundraising for Awyr Las. Alice Roberts is training to be a Clinical Scientist in Audiology at Wrexham Maelor and Sally Jones is a GP in Bodnant Surgery in Bangor.
If you want to support any of the ladies – go to their Virgin Money Giving Site and pledge your donation – they will be thrilled to receive your support. Click on any of the links below to donate:

Kirsty Thomson
Click here to donate to Kirsty
Carmel Barnett
Click here to donate to Carmel
Alice Roberts
Click here to donate to Alice
Sally Jones
Click here to donate to Sally
Mandy Watkins
Click here to donate to Mandy
All donations will go to The North Wales Cancer Appeal which operates under the Awyr Las Charitable Trust Registration
---
The Black & White Charity Ball
The Black & White Charity Ball a bi-annual event hosted and organised by the Powell-Jones family of Hendrerwydd, Nr Ruthin is now an established and popular event that continues to raise the bar when it comes to the financial contribution it makes to the North Wales Cancer Appeal.
Since the first Ball in 2004 a total of £50,000 has been raised with the funds generated since 2012 – the sum of £31,575.00, all being donated to the North Wales Cancer Appeal.
---
The Henllan Christmas Concert
The Henllan Christmas Concert, an annual event run by the Jones Family of Henllan, this popular concert has become a date not to be missed in the annual fund raising calendar. Each year since 2012, a quartet of artists trained at The Guildhall School of Music and Drama and The Royal Academy of Music have donated their services free of charge and staged a performance of opera and light music for the people of Denbighshire. This on its own has raised in excess of £12,000. However, not content with just the revenue from the Concert ticket sales, Carol Pritchard Jones, the lead organising force behind the event has also run the London Marathon twice, donating her sponsorship proceeds to the same cause which has increased the total donations in four years to over £17,800.
---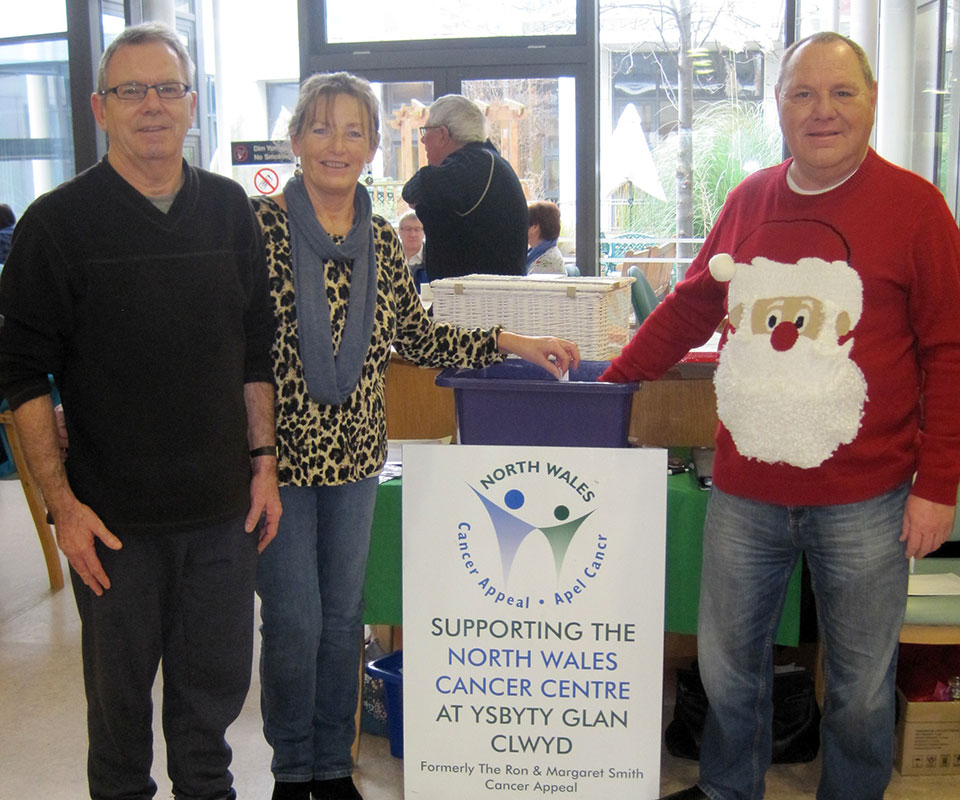 21/12/17 - Christmas Raffle Draw 2017
The draw for the North Wales Cancer Appeal Grand Christmas Raffle took place on the 21st December 2017 at The Cancer Treatment Centre. We were delighted that patients being treated at the Centre agreed to make the draw for the 24 wonderful prizes on offer. Paula and Les Butterworth from Pwllheli and Phil Hammond from Ellesmere kindly drew all the tickets and thanks to them for their valued assistance. A full list of Prize Winners is available here

We would like to take this opportunity to thank all those who kindly bought tickets and donated to our cause and a very big thank you to all the local businesses and individuals who donated items which resulted in a fabulous selection of prizes.

The Raffle raised over £1,700 and we were also pleased to receive over £300 in general donations whilst selling tickets. Thanks especially to the couple who left a cheque for £200 at Main Reception.
Thank You/Diolch Yn Fawr
---
29/08/17 Ride for Cancer – 11th – 16th September 2017
Ride for Cancer is taking place from 11th – 16th September 2017 and Carolyn Tilley (Wife of the Late John Tilley) and Jane Gough- Roberts are both riding to raise funds for The North Wales Cancer Appeal.

John Tilley a much-loved member of the local country and equine community is sorely missed by his whole family and Carolyn thought this would be a fitting way to raise money for the North Wales Cancer Appeal and North Wales Brain Tumour Charities

For more Information go to

http://www.rideforcancer.life/friends/jane-gough-roberts/
http://www.rideforcancer.life/friends/john-tilley/

Or use our Donate page to send you donation for the North Wales Cancer Appeal reference either Jane Gough Roberts or John Tilley
---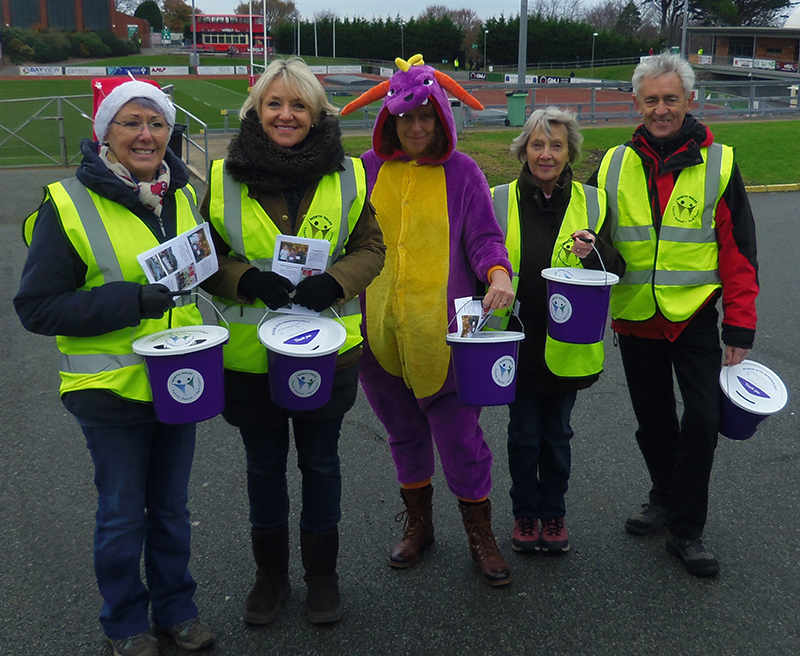 13/02/2017 - Bucket Collection Eirias Park Stadium
A hardy team, including a 'Welsh Dragon' braved the elements to collect over £230.00 from the visitors to one of the regular Rugby fixtures at Eirias Park, Colwyn Bay in November
---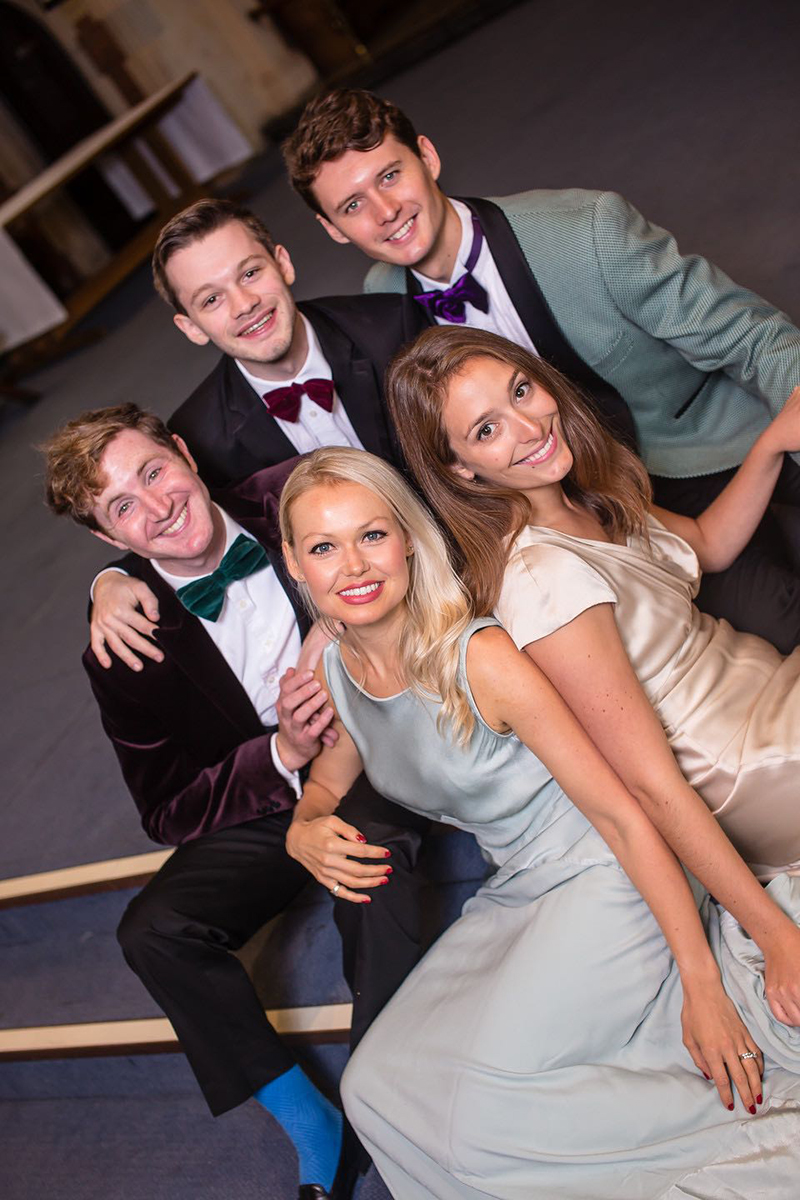 16/01/2017 - Henllan Christmas Concert Raises Over £2,700
The 'Baubles & Warbles' event held on the 17th December once again attracted a hugely enthusiastic audience and Henllan Church was full to capacity. The London based classically trained quartet, namely Laura, Lowri, Piran and Anthony along with their pianist Elliot, raised the rafters with an entertaining programme of classical opera and light music which raised over £2,700 for the North Wales Cancer Appeal. The performers have committed if possible to come back again in 2017 and a provisional date has been set. A collection for the Church also raised over £300.
---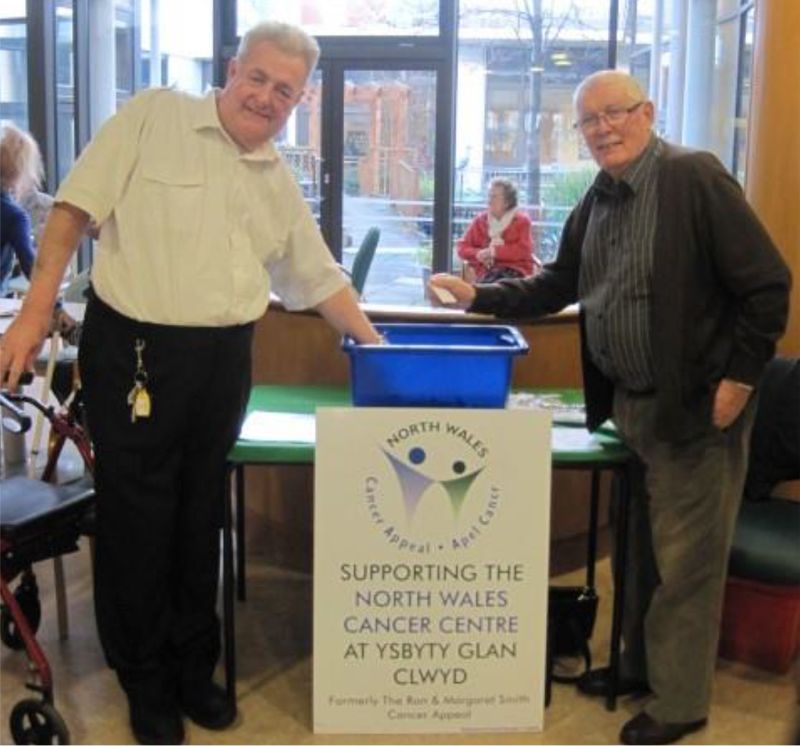 16/01/2017 - Grand Christmas Raffle Draw Results
The North Wales Cancer Appeal drew its Grand Christmas Raffle at the Cancer Treatment Centre in Ysbyty Glan Clwyd just before Christmas. Two patients were on hand to draw the twenty-three tickets, purchased by people from all over North Wales
Anthony Francis and Richard P Prichard, both from Anglesey (pictured) are currently receiving treatment at The North Wales Cancer Treatment Centre and were only too pleased to take a break to help out.
Katy Powell Jones – Chairman of The North Wales Cancer Appeal said 'We are so grateful to the prize donors, patients, staff and general public who have all supported our Grand Christmas Draw. We received terrific support from local business and individuals who were happy to donate some fantastic prizes and through them and the generosity of the buying public we have managed to raise over £1,700.00 which will go towards supporting the patients, staff and services her at the Cancer Treatment Centre'.
Below is a list of winning ticket numbers (all winners have been notified)
0034 – 1225 – 0060 – 1006 – 0387 – 0494 – 1763 – 0782 – 1594 – 0146 – 0863 – 1702 – 0158 – 0915 – 0633 - 1883- 0328 – 1690 – 1781 – 1043 – 0697 – 0793 – 1484
---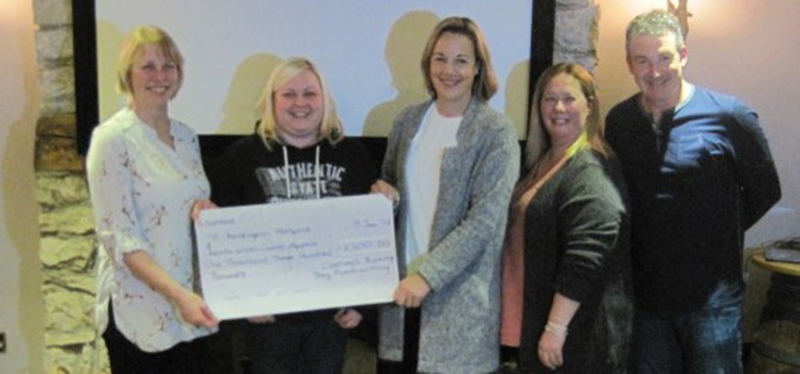 16/01/2017 - Caerwys FC Raise £1,300 Through Boxing Day Charity Football Match
Caerwys FC held a fancy dress charity football match on Boxing Day and through that and the generosity of the Caerwys community managed to raise £1,300 which was split between St Kentigerns and The North Wales Cancer Appeal.
At a cheque presentation in the Royal Oak in Caerwys (pictured) Katy Powell Jones receiving the £650 donation on behalf of The North Wales Cancer Appeal said
'We are enormously grateful to the people of Caerwys and Caerwys FC for choosing our Charity to benefit from half of their great fundraising activity. St Kentigerns is a Charity for whom we have huge admiration and it complements our fundraising activities extremely well. Sharing donations such as the one from Caerwys is a great honour and we look forward to working with Lesley and her team at St Kentigerns in the future'
Pictured are from left to right Lesley Thomas (St Kentigerns) Shona Parry (Caerwys Fundraiser), Katy Powell Jones (North Wales Cancer Appeal) Helen Edwards (Caerwys FC) and Shaun Davies, Vice Chairman of CPD (Caerwys FC)
---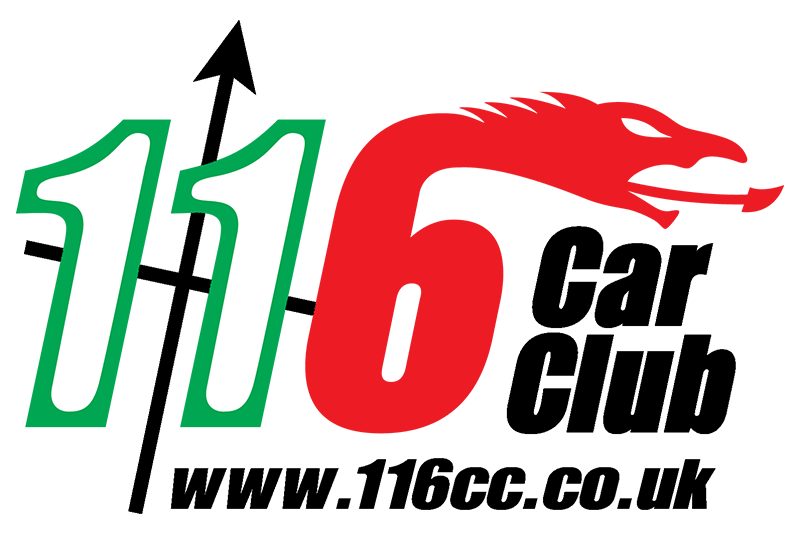 16/01/2017 - 116 Car Club Donates £130 Proceeds From Christmas Rally Raffle
The 116 Car Club held their annual Bring It On Scatter Rally on Tuesday 27th December, attracting entrants from the local area who wanted to put their navigational skills to the test and work off the Christmas Turkey.
Following clues and reference points from all over the 116 OS map, entrants and spectators also tried their hand at a well-supported Raffle which raised £130 for the Charity.
Rick Bate Chairman of 116 Car Club said ' We are delighted to have the North Wales Cancer Appeal as our nominated Club Charity and hope this along with our all year round fund raising events helps cancer patients from all over North Wales in some small way'
---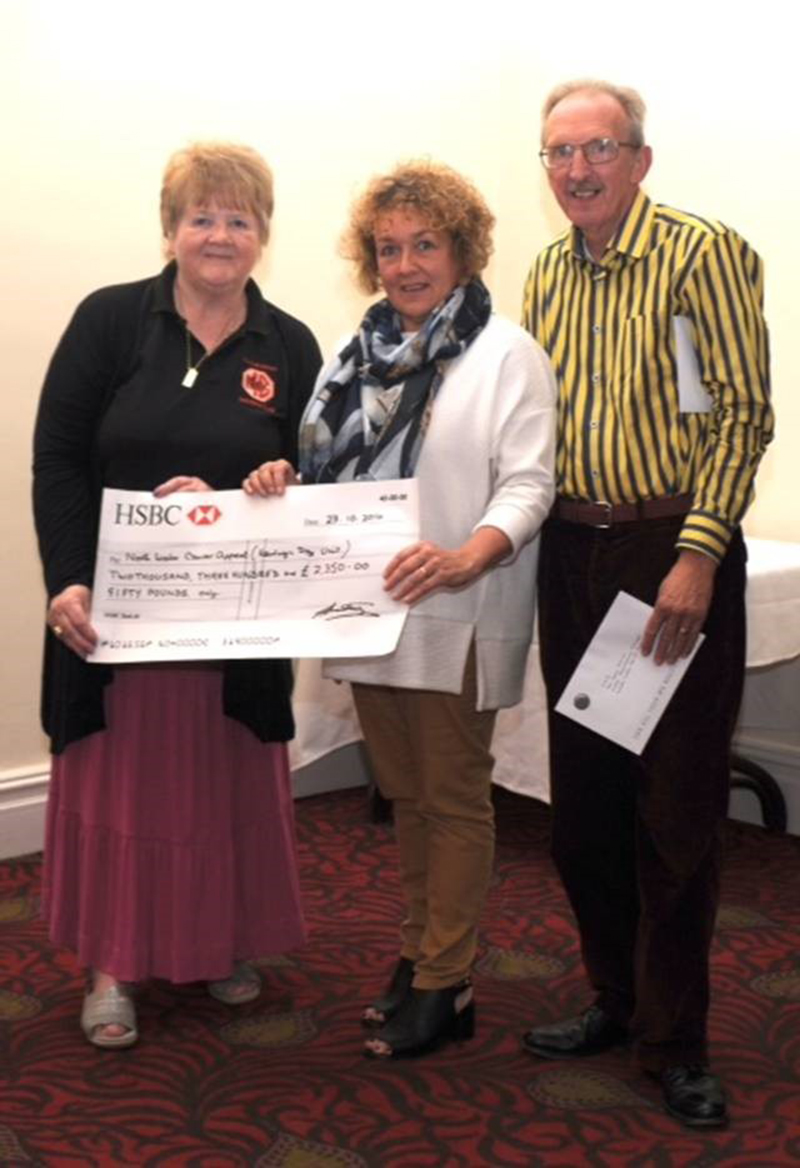 16/01/2017 - The MG Owners Club Donates £2,350 from Annual Snowdon MG Run
Proceeds from the Annual Snowdon MG Run organised by the North Wales MG Owners Club have been donated to The North Wales Cancer Appeal. A cheque for £2,350 was presented to Iona Davies from the Appeal by Sandra Armstrong the Club Secretary and amongst other things has been used for the purchase of new tables in the Heulwen Day Unit lounge for the use of patients receiving chemotherapy. Iona Davies said 'Practical things like tables on which you can put a hot drink and perhaps your lap top whilst receiving your chemotherapy treatment can be so important when patients are spending long periods of time on the Day Unit. These tables will make life a lot easier for staff and patients and we are very grateful to the MG Owners Club for their valued contribution'
Pictured Iona Davies receiving the cheque on behalf of the Charity from Sadra Armstrong
---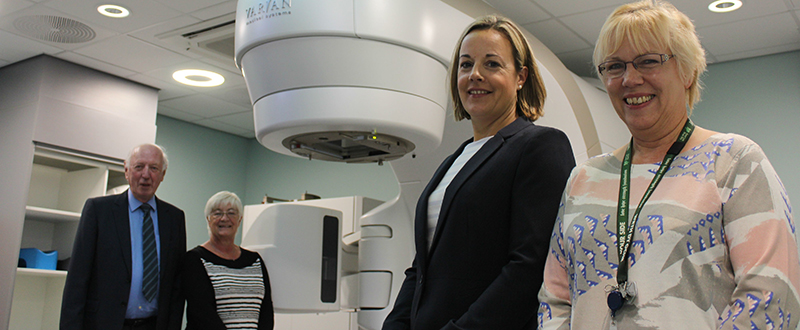 16/01/2017 - New Linac Goes Live
The new Linear Accelerator (Linac) to which The North Wales Cancer Appeal, through the efforts of the previous Committee of The Rona and Margaret Smith Appeal donated over £930,00, treated its first patients in October
Pictured at the start of the Linac treating patients in The North Wales Cancer Treatment Centre are Right to Left – Carmel Bennett – Radiotherapy Service Manager, Katy Powell Jones – Chairman of The North Wales Cancer Appeal, Nest Bowl – ex Chairman of Ron & Margaret Smith Appeal
---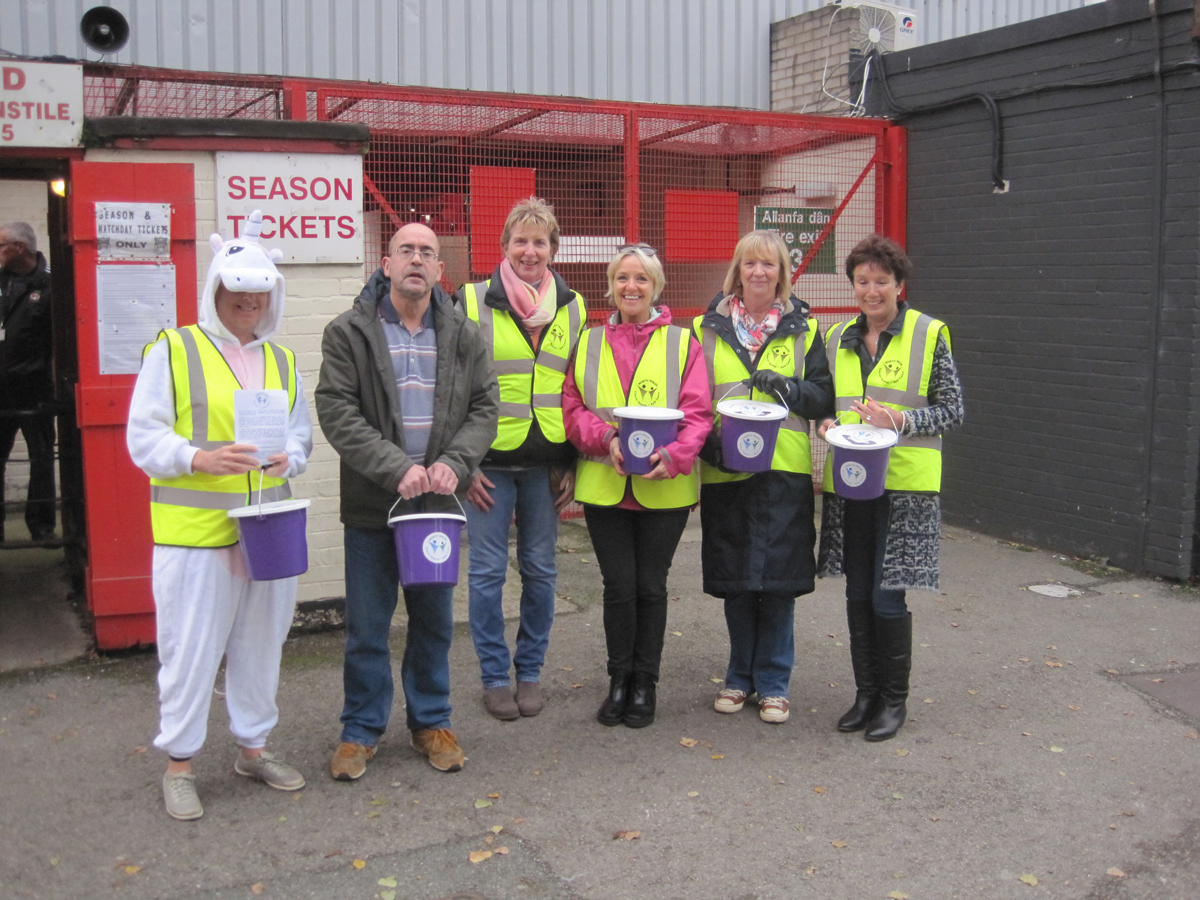 22/10/2016 - Fans at The Racecourse Ground have once again shown their generosity by boosting the funds for The North Wales Cancer Appeal by nearly £600.00
Four ladies from the Appeal were ably assisted by a Unicorn and Timmy (pictured)! ….. with the collection at the Home match against Bromley on the 22nd October 2016
We are enormously grateful to both Management and Fans at Wrexham FC for allowing us to attend these home matches to boost our funds.
---
04/08/2016 - Cheque for £1,000 from local car club received at St Asaph Gala day
---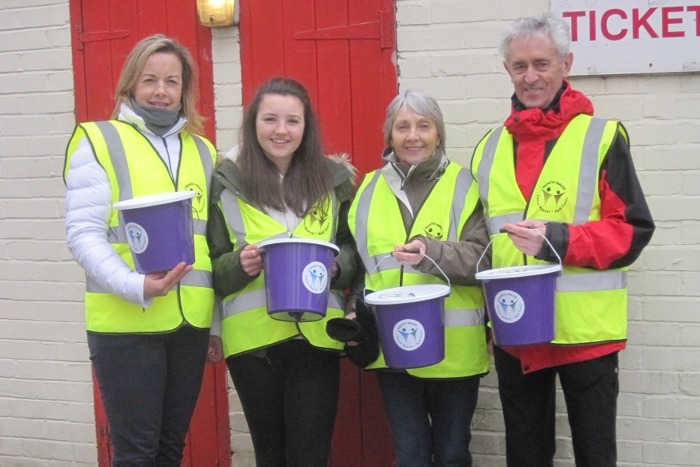 30/07/2016 - Bucket collection at Wrexham Football Club raises over £600 for the Charity
---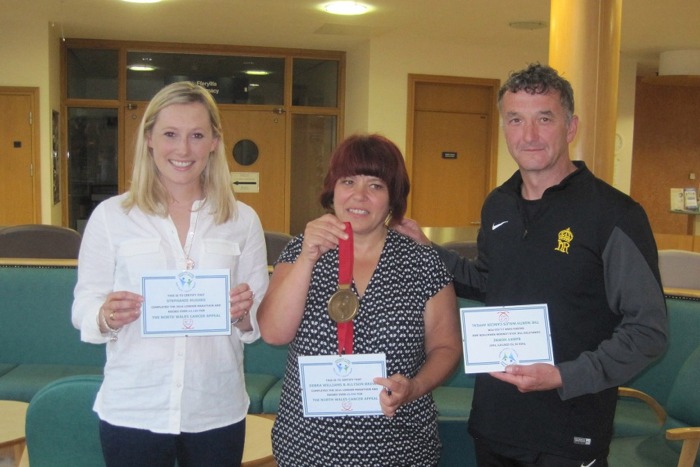 30/07/2016 - All six Marathon Runners complete the course and raise a record £19,000 for the North Wales Cancer Appeal
---
30/07/2016 - 116 Car Club adopts the North Wales Cancer Appeal as the Club Charity and donates over £280 to North Wales Cancer Appeal
---
30/07/2016 - North Wales Honda Llandudno adopts the North Wales Cancer Appeal as one of its supported Charities and donates £250 to bucket collection at 116 Car Club Targa Rally
---
Historic Press & Pics