Events
The North Wales Cancer Appeal now has a regular calendar of events which is increasing all the time, all run with the sole intention of raising much needed funds for the Charity.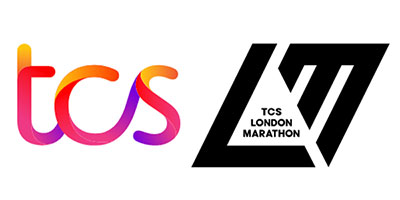 TCS London Marathon 2022 All Places Now Filled
The runners now training and fundraising are:
Helen Roberts from Ruthin
Nesta Mccluskey from Llanymynech /Maelor Hospital Wrexham
Ryan Mccluskey from Llanymynech
Tracey Harris – BCUHB – Wrexham
John Roberts from Llandyrnog

Beautiful Limited Edition Hand Crafted Mugs for Sale In Aid of The Nesta Mccluskey Marathon Fund

All proceeds (100%) from the sale of these mugs will go to The North Wales Cancer Appeal and form a part of Nest McCluskey's fundraising for the Charity. A limited number of 50 mugs, all individually numbers are available at a cost of £9.99 per mug plus postage.
Please E Mail admin@northwalescancerappeal.co.uk if you would like to purchase a mug with your name & address and the number of mugs required. We will get back to you with payment and delivery details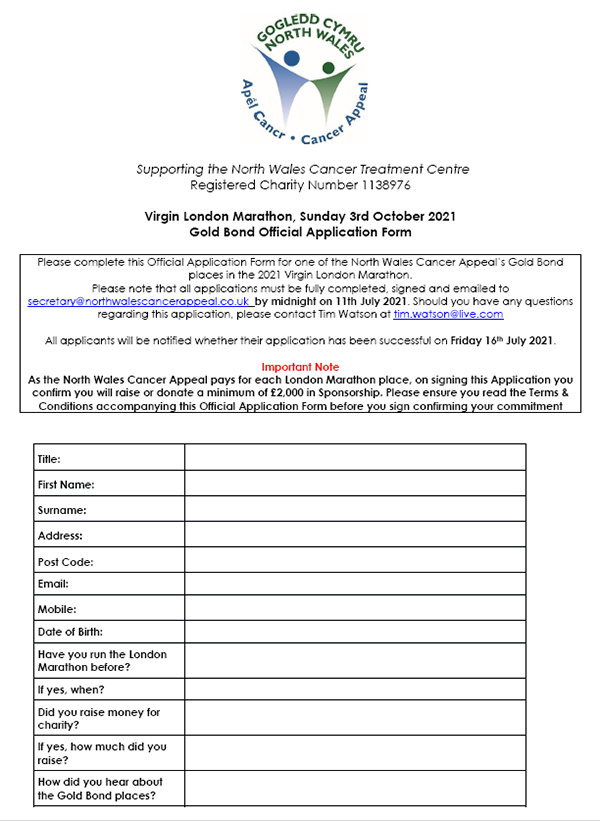 THE WORLD'S FIRST 100,000 - PERSON MARATHON!
The 2021 Virgin Money London Marathon is set to be the biggest marathon ever staged, with an incredible 100,000 runners taking part. How is this possible? Well, the virtual Virgin Money London Marathon is returning this year, with 50,000 places available for runners to take on 26.2 miles from wherever they are in the world, on Sunday 3 October.
On the same day, a record 50,000 people will run the traditional marathon route from Blackheath to The Mall – an increase of more than 7,000 on the previous finishers record. Would you like to be one in 100,000?
It is certainly going to be the Marathon to get a place on in 2021. Whether this is your first marathon, your 30th marathon, your must do challenge, your dream, your celebration, your remembrance or commemoration … then we have places for you to run for the North Wales Cancer Appeal.
The North Wales Cancer Appeal is a volunteer run Charity that raises money to buy equipment for The North Wales Cancer Treatment Centre and since 1991 has raised in excess of £3 million
The ballot for the Marathon was announced on February 8th 2021 for general admission places so if you didn't get one then we have places available.
You can download the Application form here
Or send an E Mail to admin@northwalescancerappeal.co.uk and we will send you an application form by return
Ladies Lunch 2019 Raises £5,000 For NWCA
Now a regular annual event the Ladies Lunch kindly hosted by Karen & John Hall of the Brookhouse Mill in Denbigh, this year attracted over 170 guests. Saturday 17th August 2019 fortunately turned out dry and sunny and the marquee sited courtesy of Philip and Rachel Hughes at Brookhouse Farm provided the perfect venue for a fabulous Canape and Prosecco Reception, followed by a beautiful buffet lunch.

The Charity's very generous supporters and sponsors provided over 30 Raffle and Auction prizes from Afternoon Teas, Spa Days and works of art to designer handbags and baskets of beauty products. It seemed that very few went home empty handed!
After record Raffle Ticket Sales and some very enthusiastic bidding in the Auction, as a result of Karen & John's generosity the event raised £5,000 for the charity which to date is a record amount.

Thanks go to all our generous donors and sponsors and the wonderful duo called Keenan who entertained us all throughout lunch and then donated their services again as an Auction Lot – Thanks to you all …..

Denbigh Town FC Charity Football Match
The Annual Uptown vs Downtown Charity Football Match took place at Denbigh Town FC on Bank Holiday Sunday 26th August. Despite a miserable wet start the teams turned out in force with a very energetic pre-match work out by the Uptown team and Kick Off went ahead at 11am prompt.
After their energetic pre match display the blue team (Uptown) took an early lead, however the final score was 4 -2 to the Downtown team and was followed by celebrations and commiserations after at a local hostelry. With the very generous support of players, supporters and members of the public over £1,200 was raised for the Charity
The Organisers kindly nominated the North Wales Cancer Appeal to benefit from the sponsorship proceeds and the very well supported bucket collection.
Our enormous thanks go to James Drury and the rest of the Organising Committee and Shaun Powell of Lock Stock for his help and support on the day.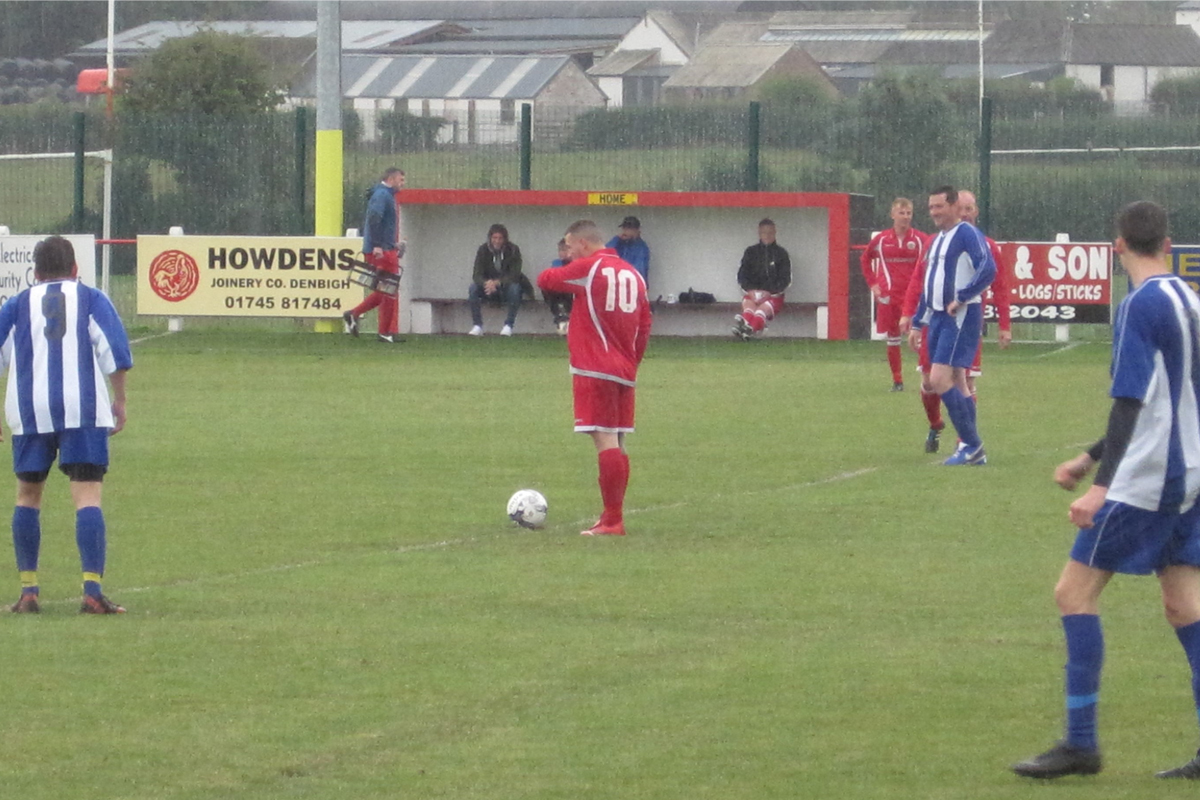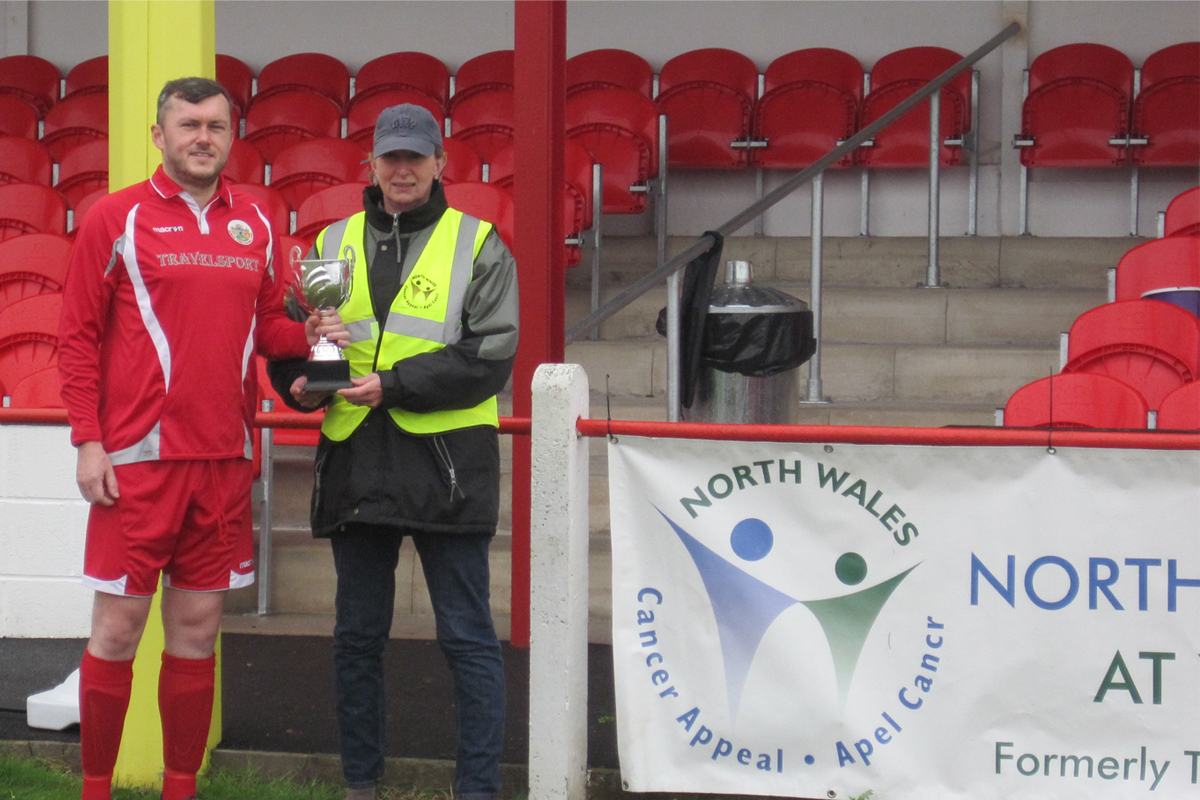 Marathon Runners Raise £22,000 for the Charity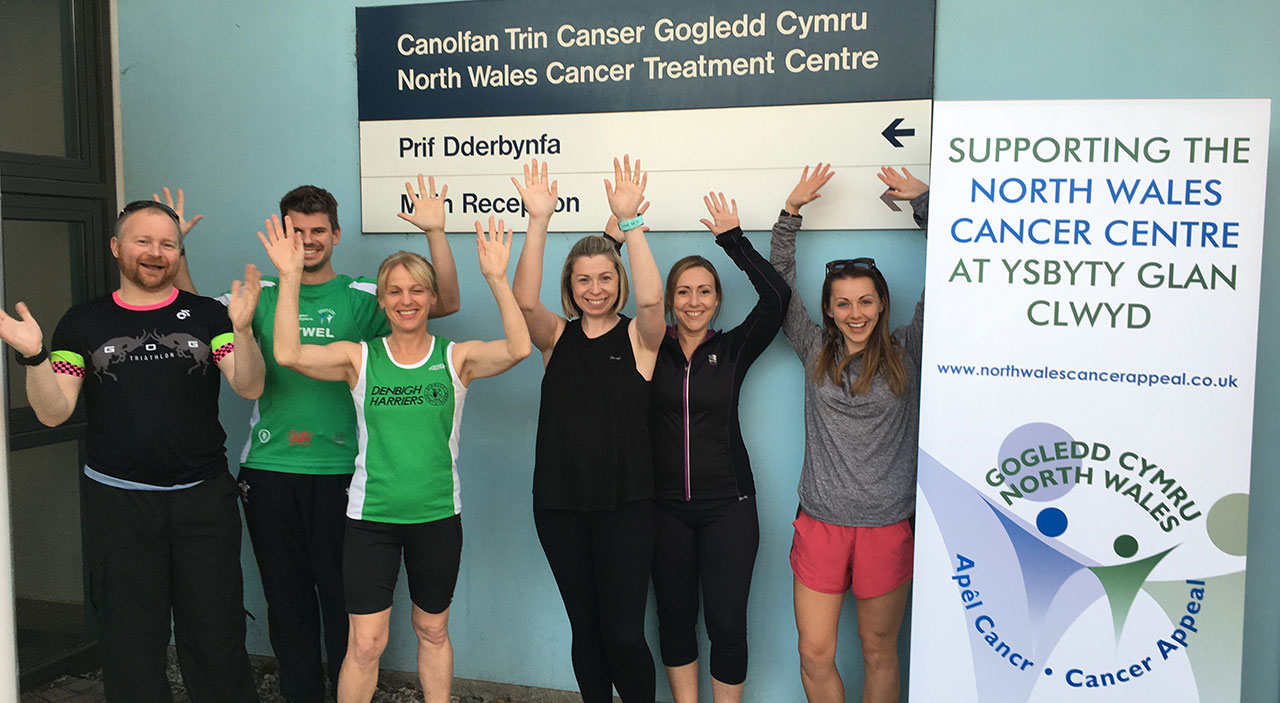 All 6 Gold Bond Runners have exceeded their £2,000 target and raised a combine total of over £22,000 for the North Wales Cancer Appeal. All runners finished and an additional £4,740.75 from independent runners in the London and Manchester Marathon, Anthony Parvin and Sam Herd brings our grand total raised to over £26,500. Thanks to all the runners for their huge and much appreciated effort.
The World's Biggest Pub Quiz
Red Lion, Llanasa, Wednesday 13th March

The second quiz of 2019 will be held in the Red Lion Pub, Llanasa, CH8 9NE on Weds 13th March 2019 at 7.30pm. We will be raising money for the 1st Llanasa Rainbows and Brownies, as well as the Pub's nominated charity for the year, the North Wales Cancer Appeal.
Quiz, Raffle and "Chip Butty"
The next Red Lion pub quiz will be on Wednesday 13th March 2019 at 7.30pm.
All proceeds from the evening will be donated between 1st Llanasa Rainbow and Brownies & North Wales Cancer Appeal for Glan Clwyd Hospital
Raffle prize donations would be greatly appreciated.
If you want to enter a Team send an E Mail to brian.horwich@gmail.com
---
Ride London Bike Ride

Applications to take part in the Prudential Ride London are now being taken.
The Prudential RideLondon is the world's greatest festival of cycling! It was developed as a legacy of the 2012 Olympic Games and this year's event will be the 7th edition taking place over the weekend of 3-4th August.
There is no other closed road event like it that combines the fun and accessible element of a family free ride in Central London and the excitement of watching the world's best professional cyclists' race on the Saturday and then the place you could have riding the Prudential RideLondon Surrey 100 on the Sunday.
100 miles starting in the Olympic Park, with over 24,000 other riders, and riding through central London and out into Surrey taking in Box and Leith Hills and returning to London to finish riding up the Mall, all on closed roads. On finishing you can sit, recover and watch the professional race playing out on the roads behind you on the big screens in St James Park.
More than £53 million has been raised at this event since 2013 and like the London Marathon it is getting harder to gain a place through the ballot due to overwhelming demand.
The North Wales Cancer Appeal has 5 places available for this year's RideLondon. You may just want to ride it on your own, someone you know may have gained place through the ballot system, but you did not, you may fancy riding as a pair or a team of up to 5 of you. Use our application form to tell us why you want to do this amazing event. We are asking a minimum of £500 per place but know that this event will inspire you and your sponsors to smash that target.
Download the Application Form here and E Mail to tim.watson@live.com who will coordinate your entry. He has ridden on 3 of the last 6 events for charity as a pair and as part of a team of 4 so will be able to give you the full flavor of how good this event really is.
If you love cycling or just fancy an epic cycling challenge without the complication of road traffic go for it!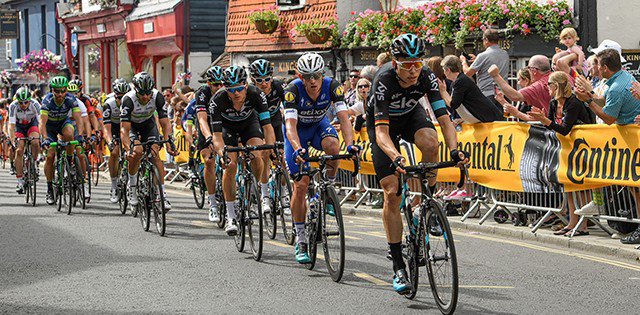 29/07/18 North Wales Honda 116 Targa Tracks Rally

The annual 116 Car Club Targa Tracks Rally started at Glan Y Gors Karting in Cerrigydrudion on Sunday 29th July 2018. With competitors from all over the UK and Ireland taking part, 200 Drivers and Co Drivers signed on from 6am to commence a series of challenging tests all over North Wales.

The North Wales Cancer Appeal is the 116 Car Club nominated Charity and a Raffle for a free entry to next year's event in aid of the Charity was the first opportunity the 100 teams and their supporters had to donate to the cause.

With over 20 tests and 150 marshals supporting the event there were plenty of people back at Glan Y Gors at the end of the day to see the drivers and their fine array of cars return after a gruelling day.

The Car Club donated the grand total of £1,274.00 to the Charity and thanks go to the Organising Committee of the 116 Car Club and all the supporters of the event that made this fantastic total donation possible.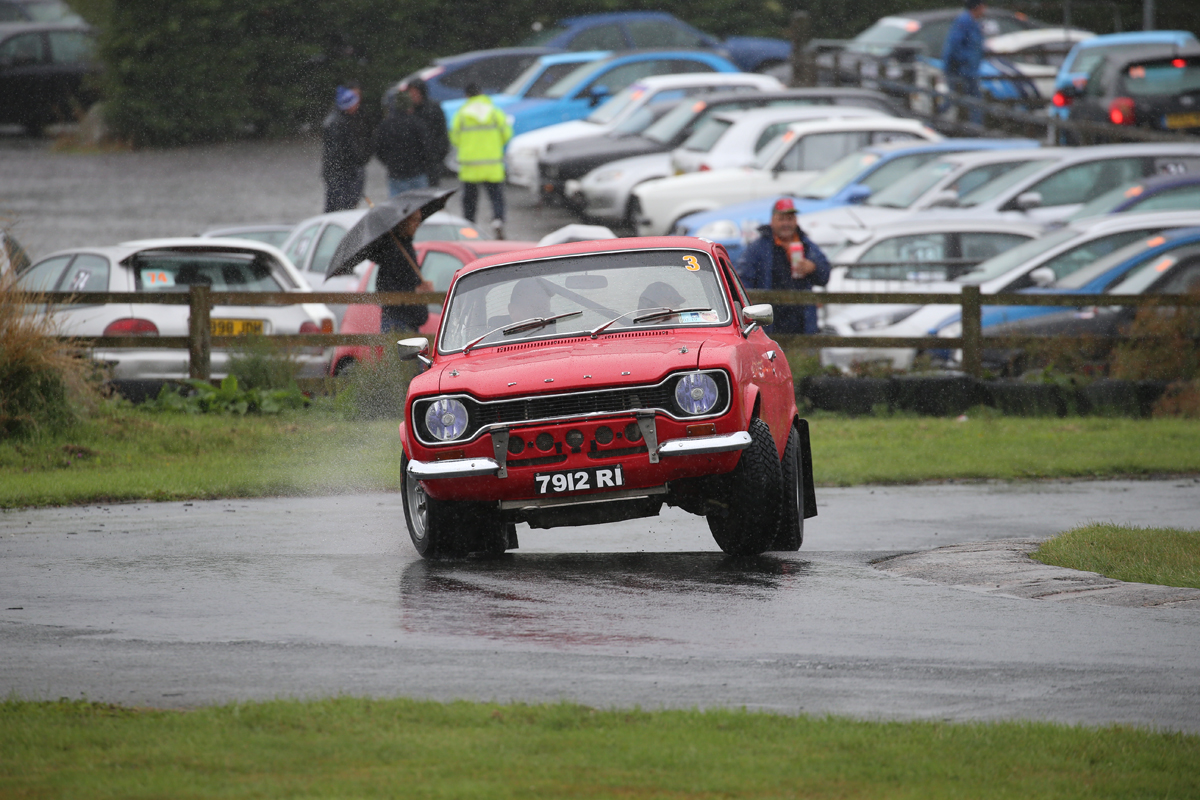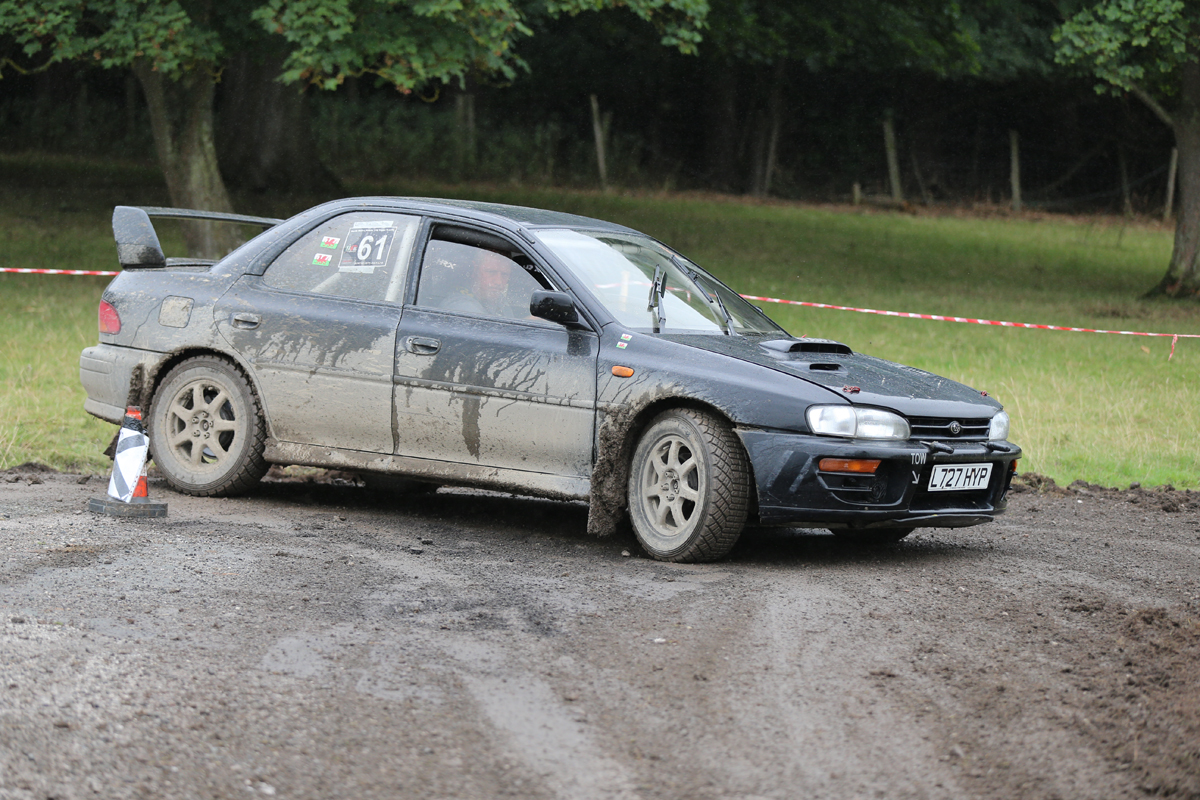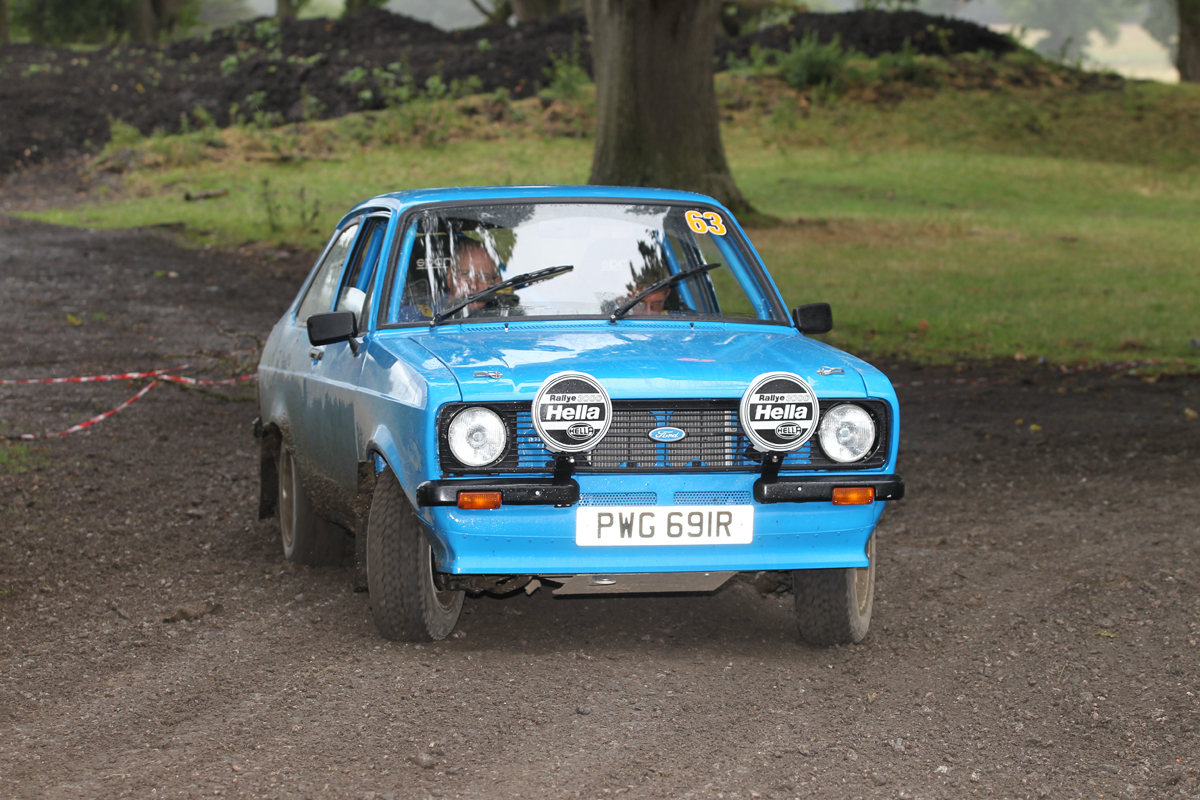 ---
The 116 Car Club Targa Rally, an event now in its second year takes place in July and is based at Glan Y Gors Karting in Cerrigydrudion. The Rally attracts competitors from all over the UK and this year saw 90 crews in cars covering tests all over North Wales and the 116 Map. Along with joint sponsor North Wales Honda the Club has taken the opportunity to raise funds for The North Wales Cancer Appeal, now the Club's nominated Charity and this year donated a cheque for £1,000.00.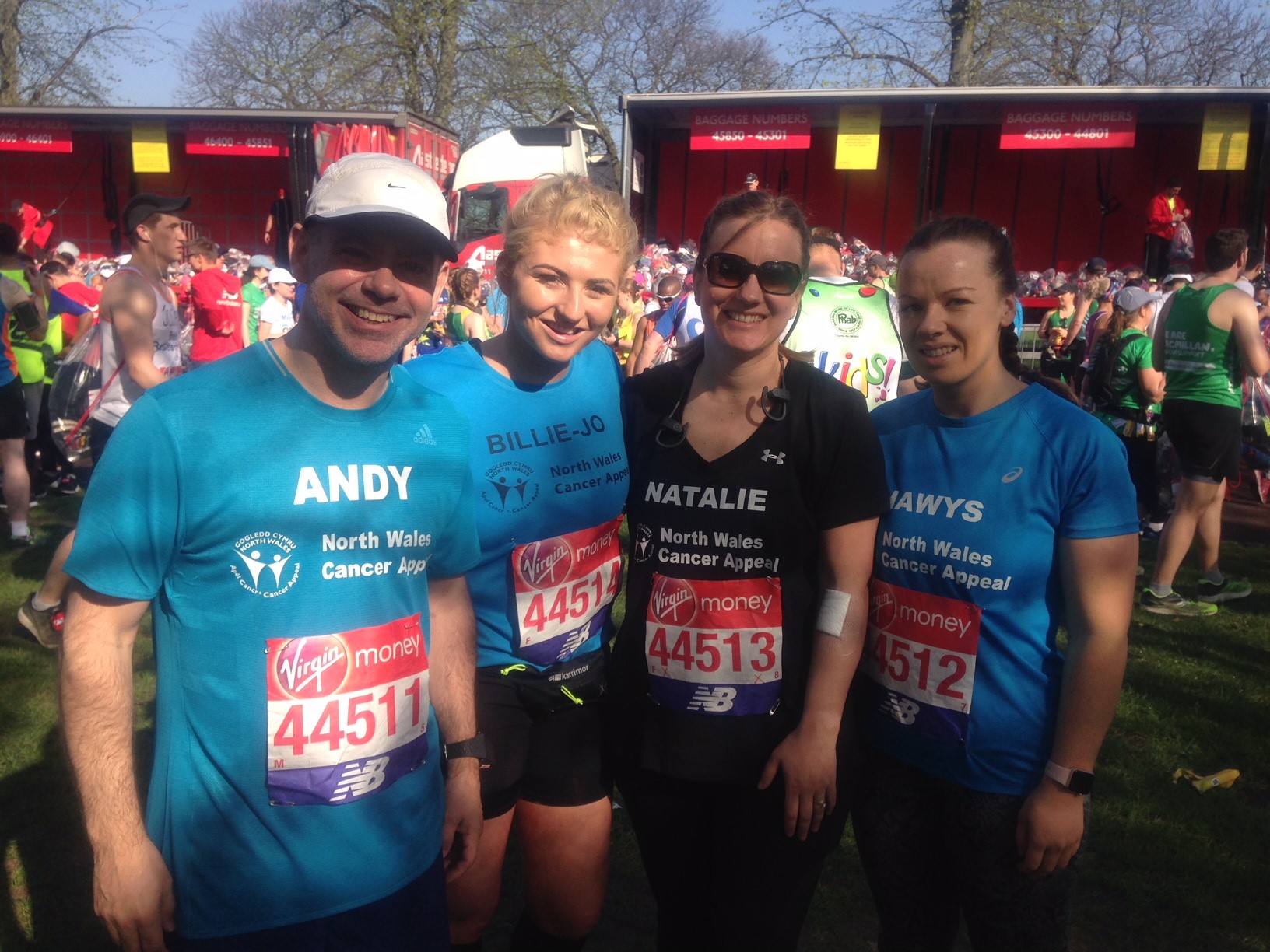 2018 Marathon Fundraising
The four runners who tackled this year's Marathon have absolutely smashed previous totals with a massive £20.381.11 added to the NWCA funds.
All four runners did spectacularly well first finishing the gruelling 26 mile course in very hot conditions and their fundraising efforts were amazing.
Hawys Roberts - £6,689.74
Billie Jo Davies - £6,646.81
Andy Knapp - £5095.98
Natalie Maurice Evans - £1,848.58

Pictured are the runners at the Finish and we would like to thank them all for their valuable contribution to the North Wales Cancer Appeal.
---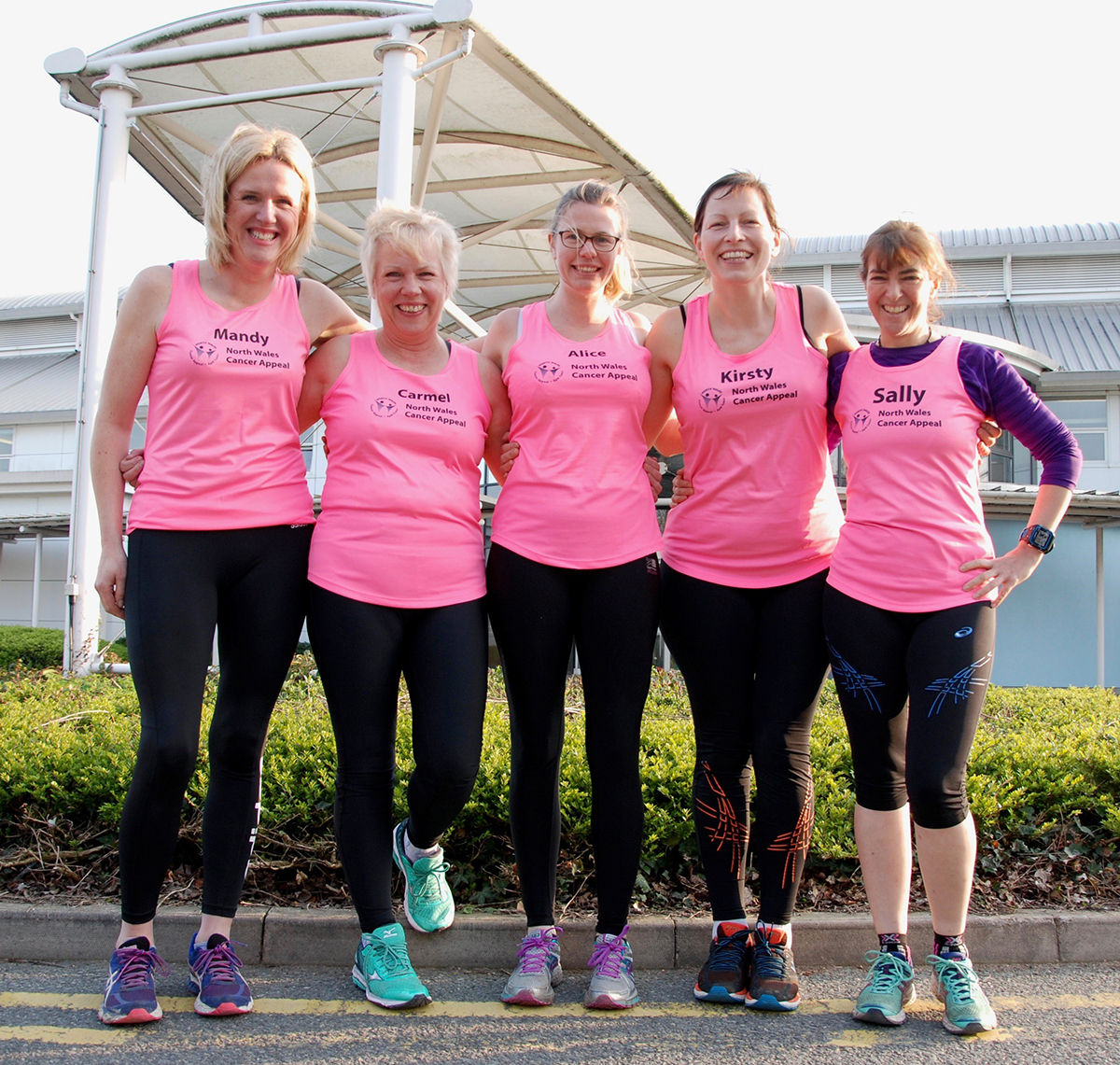 10/04/2017 - London Marathon 2017 – A show of force from the female contingent of Betsi Cadwalder University Health Board Staff is set to conquer the challenge of completing the London Marathon and at the same time raising much needed funds for The North Wales Cancer Appeal.
Working in a range of disciplines in the Health Board across North Wales, these hardy souls have been pounding the pavements for the past few months in preparation for their big challenge.
All first-time London Marathon runners the five ladies all gathered to swap training tips outside the North Wales Cancer Treatment Centre last week (Pictured from left to right Mandy Watkins, Carmel Barnett, Alice Roberts, Kirsty Thomson and Sally Jones)
The 'Pink Perils' as they are now affectionately known all have their own motivations for wanting to run the Marathon and raise money for the Appeal, but the one thing they do have in common is they are all determined to finish and raise as much money as possible.
Carmel Barnett is Radiotherapy Services Manager at the Cancer Treatment Centre and Kirsty Thomson is Head of Fundraising for Awyr Las. Alice Roberts is training to be a Clinical Scientist in Audiology at Wrexham Maelor and Sally Jones is a GP in Bodnant Surgery in Bangor.
If you want to support any of the ladies – go to their Virgin Money Giving Site and pledge your donation – they will be thrilled to receive your support. Click on any of the links below to donate:

Kirsty Thomson
Click here to donate to Kirsty
Carmel Barnett
Click here to donate to Carmel
Alice Roberts
Click here to donate to Alice
Sally Jones
Click here to donate to Sally
Mandy Watkins
Click here to donate to Mandy
All donations will go to The North Wales Cancer Appeal which operates under the Awyr Las Charitable Trust Registration
---
The London Marathon has played an important role in this area of achievement as the Ron & Margaret Smith appeal Committee had the foresight to engage in securing London Marathon Gold Bond status some years ago and now enjoys the benefit of being able to purchase places for runners to raise funds for The Appeal.
To date the London Marathon fundraising has contributed over £60,000 to the Appeal and continues to be an important source of funding. Long may a line of hardy individuals be queuing up, wanting to pound the pavements through those long winter months.